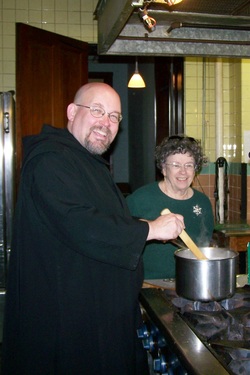 A friend requested my minestrone recipe. I don't have a photo other than this one of my mom and I making minestrone in the abbey kitchen for our family Christmas a few years ago. You'll enjoy this soup a lot more if you make the sausage yourself using lean ground pork rather than using whatever's in the case at the supermarket. Better still, double the recipe and use half pork and half turkey---far less grease to skim off the top of your soup. The recipe for the sausage is included below. You can use whatever pasta you like. I've made it with rotini, ditalini, pennette, orichette, shells, macaroni---whatever's in the pantry will work.






Minestrone
1 to 1½ lbs. bulk Italian sausage, browned and drained
Olive oil (if needed)
1 medium onions, chopped
3 cloves of garlic, minced
1 15 oz. can pizza sauce
4 cups beef stock or bouillon
2 cups chicken stock or bouillon
1 cup dry red wine
2 tbs. grated Romano cheese
1 Tbs. Italian seasoning mix
1 medium green pepper, seeded and chopped
1 medium zucchini, diced
2 cups bowtie pasta
salt and pepper

Brown the sausage; remove from pan and cool. If there is not enough fat left in the pan, add a small amount of olive oil. Sautee onions and garlic until limp, about 5 minutes. Add pizza sauce, beef and chicken stock, wine and sausage. Simmer, covered, for 25 minutes. Add cheese, herbs, green pepper, and zucchini; simmer, uncovered, for 20 to 25 minutes. In a separate pan, boil pasta until not quite cooked. Drain and rinse with cold water to stop the cooking process. About 10 minutes before serving, add the pasta to the soup and simmer until pasta is al dente. Salt and pepper to taste. Serves 6 to 8.

Hot Italian Sausage
1 lb. lean ground pork 2 tsp. Italian herb blend
1½ tsp. garlic powder 1½ tsp. fennel seed
½ tsp celery salt 1 tsp crushed red pepper
2 tsp. black pepper ¾ tsp. salt

Mix thoroughly in a bowl, cover and refrigerate until use. I like to let the flavors marry for about 2 hours before I cook this up.