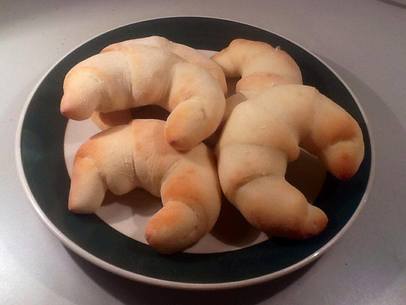 My siblings have been clearing out my mom's house in preparation for an estate sale and putting the house on the market. It's a bittersweet process, filled with happy memories and small griefs. But we decided that we needed to have one last big family meal in The Crumpled House, so we're having Thanksgiving at the big dining room table with the mismatched chairs. With the addition of spouses, significant others and children, it's going to be a bit crowded, but we'll manage.
Now Thanksgiving at The Crumpled House was sometimes the traditional roast-turkey-mashed-potatoes-gravy-and-pumpkin-pie family feast---my mother dearly loved potatoes in any form---which would mean we'd get Fred Flintstone Telephone Rolls. The rest of the world calls them
sour cream crescent rolls
, but as kids we thought they looked like the telephones on the animated TV show "The Flintstones".
When these rolls were served, it was the only time we were allowed to play with our food at the table. You would hold the roll up to your ear and pretend to dial a rotary phone; the obligatory sound effect was "ZUH-oh, ZUH-oh" as you dialed. Some else at the table would say "Ring-ring!" then pick up a roll and say "Hello?" When you are under age 8, this whole operation is a cause for hilarity and riot and must be repeated until Dad gets fed up with it and yells at you to eat your turkey. However, we were still fulfilling this ritual well into our teenage and college years, and I expect it to be re-enacted later this week.
However, in spite of my mother's Irish heritage and her love for potatoes and gravy, more often than not she'd serve spaghetti, meatballs and Italian sausage for Thanksgiving. She got the recipes from my father's side of the family, including Grandpa Jim's sauce recipe and the meatball recipe from my dad's great-grandma Fiori. But the sausages always came from Ciota's, an Italian deli on the south side of Peoria.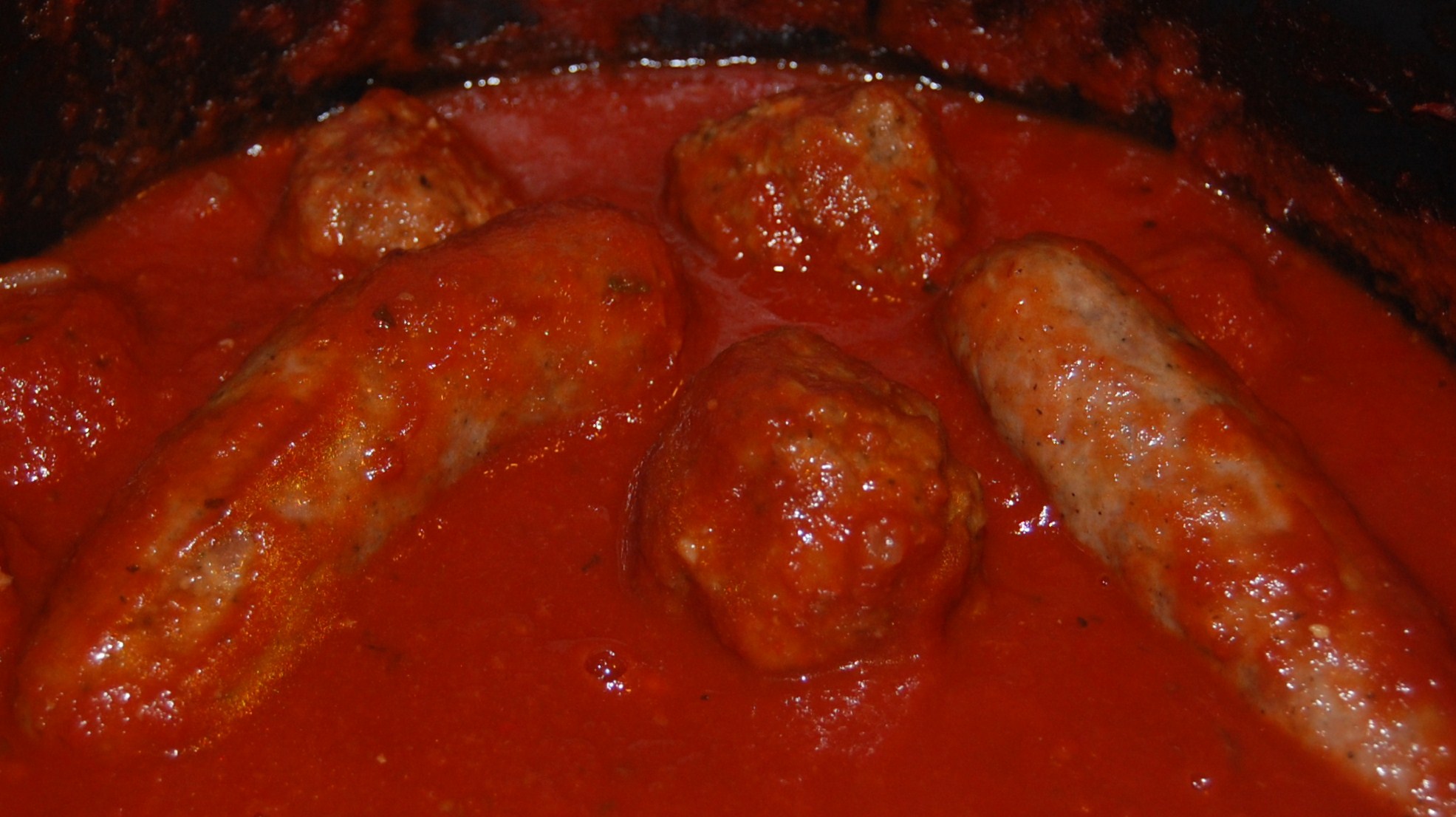 Early in the day Mom would make a huge pot of sauce, fry up the meatballs and sausage, and then simmer them in the sauce pot all morning. She'd make long loaves of Italian bread, and there was probably some kind of Iceberg lettuce salad. I don't recall what kind of dessert she customarily served, except that on at least one occasion she made Lemon Lush. My sister Eileen recalls my mother buying some kind of chocolate torte with about nine layers, so rich you could only eat thin slices.
This year, however, things are going to get a bit more eclectic. You can't get Ciota's sausage anymore, so I'm making some with a recipe I developed that is a close second. Someone is making meatballs and sauce with the family recipes. But I'm making the Fred Flintstone Telephone Rolls instead of Italian bread, and I think dessert is going to be Anja's apple crisp and Eileen's pumpkin pie. God knows if we'll bother with a salad. But we'll tell all the stories and laugh like we always do, and maybe cry a little, too. If you have an empty chair at the Thanksgiving table this year for the first time, you'll know what I mean. Want to make the rolls? The recipe is
HERE.


God bless and happy baking!