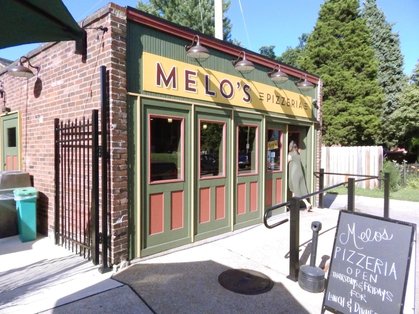 Whenever I'm in STL with my publisher Josh Stevens of
Reedy Press
, I can always count on him to find a new pizza joint for us to try, This time it was
Melo's Pizzeria
(2438 McNair, 314.833.4489)
behind Blues City Deli. It's a tiny joint housed in a former garage with a small patio out back. But holds a 55oo pound wood-fired oven that was custom built in Naples, Italy.
Melo's specializes in Italian style pizza with a New York twist. In other words, hand-stretched dough (no rolling) cooked on high heat with simple ingredients *(no Supreme Meat Lover's pizzas here). The New York twist is that the crust is chewy but soft enough to fold the slice in half for eating. (If you want a cracker crust go to Pi). You can find a more complete review by Ian Froeb of the Post-Dispatch
HERE.
I had "the Dom" (how could I not?) with tomatoes, sausage and basil. I enjoyed the flavors but I must admit I prefer a traditional St. Louis crispy crust. But the outer crust was chewy with just the right amount of char. My only serious criticism is that their hours are listed as "changes daily---see Facebook for details". As far as I can tell, that usually means only Thursday and Saturday. ????