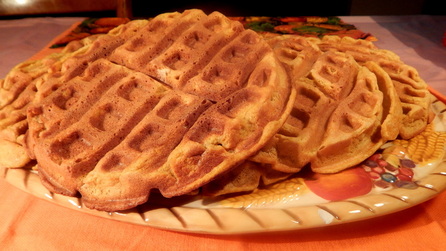 Regular readers of my bread blog and Facebook page know that I browse through flea markets and resale shops every chance I get, and this vacation is no exception. St. Louis has a large Goodwill store on Manchester Road, and I scored a pair of small appliances: two waffle irons, $6 apiece, both in excellent condition.
Breadhead Breakfasts
will have two or three waffle recipes in it, but I don't want them all to come from the same style of waffler. The waffles pictured above are from my current iron, which is designed to facilitate creating waffle sticks for kids to dip in their maple syrup. (My fellow monks are not given to such frivolity at the breakfast table, but the waffle iron was on sale.) One model I bought yesterday creates a pair of square Belgian waffles, the other a thinner, heart-shaped ones much like the Dutch
stroopwafel.
Stay tuned for photos when I get home to my kitchen.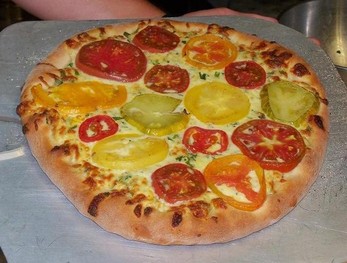 At the "Savers"store on Watson Road I found a gently-used pizza stone for $5. New ones can cost as much as $30, so I'll be happy to give it to someone at my "Pizzas from the Garden" class at the Missouri Botanical Gardens this Saturday. I consider a pizza stone to be as essential as cookie sheets and oven mitts in my kitchen, and it's pretty tough to make a decent thin crust pizza without one. So when I see them at flea markets and garage sales I always snatch them up to give away to potential pizziaolos. One of the pizzas we'll be making this weekend is the "Four Cheese Tomato Top" from my book
Thursday Night Pizza
.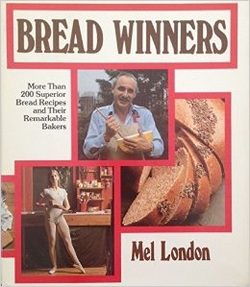 The other treasure I discovered was a copy of Mel London's Bread Winners (Rodale Press, 1979). Not a professional baker, London began baking bread to give as Christmas gifts and gradually developed a cadre of home bakers who traded recipes with him. He collected them into this book, which includes profiles of the bakers and over 200 recipes. Because none of the bakers are professionals, one has the sense in paging through the book that you, too, could manage Garden Cracked-Grain Bread, Cheese and Pepper Loaf, and Orange Oatmeal Muffins. There are a wide variety of recipes, with topics as diverse as sourdough, breads made with triticale, Minnesota State Fair winners, breads for camping trips and backpacking, and a fair share of ethnic breads from Indian fry bread to Panettone to fastnachts.

Bread Winners is one of my mom's favorite bread books, and I think she got me my copy at a parish used book sale. So I'm happy to get what appears to be an unused copy---the credit card receipt from 1982 was still in the book---to pass on to another Breadhead. That's what all this reporting on flea market finds is all about. Believe me, I'm not bragging on my shopping abilities---if you think I can find a bargain, you should go garage sale-ing with my sisters! But I do encourage you to keep your eyes open for unexpected treasures in ordinary places. Train your eye long enough, and you get good at finding valuable things not only in shops, but in every day life, in the people around you, and inside yourself.

God bless and happy baking---and shopping!