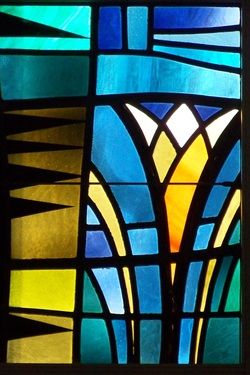 Taking a week of vacation St. Louis, with a "bread gig" on Saturday at the Missouri Botanical Gardens. I'm staying with the Loretto Sisters in Webster Groves as I usually do. The image at left is from the stained glass in their chapel, an illustration of the verse, "As a lily among thorns, so is my beloved" (Song of Solomon 2:2). The text is sometimes interpreted as the voice of Christ professing his love for His bride the Church, and by extension, his love for those women who pledge their lives to his service. I love staying with the Loretto Sisters: they're down-to-earth and yet deeply spiritual, cheerful and funny, and are dedicated Cardinal fans! I earn my keep by offering mass for them every morning, plus a little baking.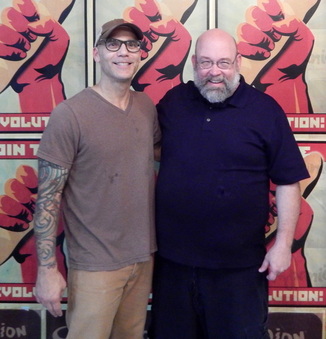 Yesterday I visited Josh Allen at the
Companion Bakery
, one of St. Louis' premiere sources for artisan breads. They have an 11,000 square foot operation, but are soon going to be moving to a 41,ooo square foot facility in West St. Louis that will include bakery, cafe, retail outlet and education center. (We're in discussion about my getting to teach a couple baking classes in the spring). Josh and his operations manager Price took me around the facility and I got to sample a new bread they were developing for a particular client, a sizable baguette with a non-traditional recipe which included oil. I was impressed with how Josh emphasizes the relationships between his bakery and his clients, and his willingness to enter into conversation with them about new products his bakery
doesn't
make---yet.
Another notable practice at Companion Bakery is that instead having an employee do one assembly line job in the process (e.g., load flour or divide dough) each baker follows his/her batch from start to finish, and is involved with every aspect of its production. The result is more consistent product, better trained employees, and, I would think, bakers with a well-developed sense of pride in their work and personal engagement in the company.
Josh was generous in sending me back to the Loretto Sisters with samples of bread, dipping sauces, and granola. Be sure to check out Companion's full line of available
breads
and find out
where you can get them
. If you're out and about in St. Louis, check out their
cafe/bakeries
in LaDue and Clayton.