On Saturday May 5 while the Academy students were getting ready for pro, I was in Saint Louis shooting a new PBS pledge special titled "How to Be a Breadhead"; a beginner's baking book with the same title will be published in August when the program airs. A lovely lady who is a friend of my publisher's wife very graciously let us invade her home for the day---and it did indeed take the whole day, from 7 a.m. until 11 p.m. It took three hours to just to set up the lighting (always harder in a home than in a studio) and as you probably know, rising dough cannot be rushed!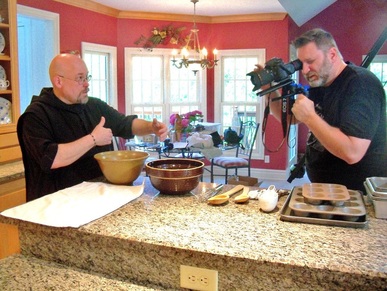 This is me with Bill Streeter, the videographer. It was a pleasure to work with him, since he's laid back but also engaged in the creative process and very collaborative. He'll be editing the video AND designing the book cover--- a true modern Renaissance Man!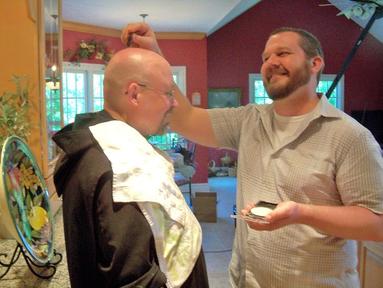 Here I'm getting my shiny bald head dusted with powder by Bill's assistant Eric. He did everything from makeup to camera operation to dishes. We were lucky to have him around. Some other pictures from the shoot are below.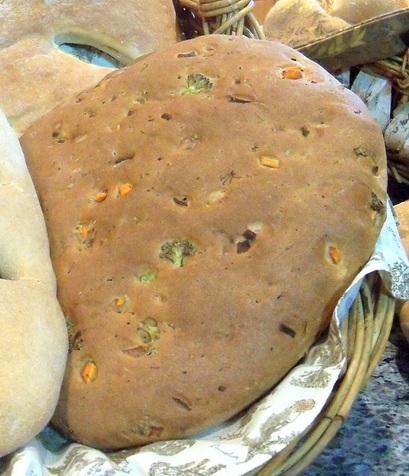 This chop block bread was one of the stars of the show, and it's not at all difficult to make once you have the basic techniques of kneading down. You start with a whole batch of wheat or multigrain dough, and after the first rise you knead in a cup of shredded cheddar plus two cups of chopped vegetables (in this case, 1/2 cup minced onion, 1/4 cup chopped carrots, 1/2 cup each of chopped broccoli and celery). This last step is messy by hand, and at first the vegetables come squirting out the sides and make it look like epic failure. But be patient and keep pushing them back in as you knead, and before long you'll have a homogenized dough. Or throw the whole business in the stand mixer with a dough hook and mix it at medium for three or four minutes-same result! Pat the dough into a big oval about 2" thick on a cookie sheet, let rise for 30 to 45 minutes, and then bake at 350 F. for 45 to 55 minutes. The onions and other veggies on the outside get lightly toasted and make this bread smell amazing!