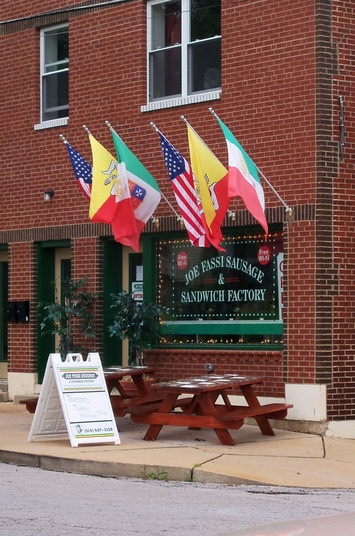 While we in the St. Louis area, I took my former student and current culinary assistant Andrew Loebach to the Hill so we could get our chef knives sharpened at
Bertarelli's Cutlery
on Marconi (I also bought a flat-bottomed roux whisk and an extra-wide pizza peel). Nearly every time I go there I see a chef in his whites either dropping off or picking up his case of knives. They also carry Boos cutting boards and butcher blocks, and that Magic Oil Boos makes that keeps my hardwood rolling pins in good condition.
We of course had to stop at Missouri Baking Company (see December Bread Blog archive) for Gooey Butter Cake and cannoli, and for lunch we went to
Joe Fassi Sausage and Sandwich Shop
on Sublette. I discovered this gem with my sister Eileen a couple of years ago, and when I was in STL for a week last June Joe Fassi's became a daily hangout, in part because they have free WIFI. But if the hotspot made me stop, it was the sandwiches that made me stay!
Fassi's has been on the Hill since 1926, started as a grocery by the great-grandfather of the present owner Tom Coll. The walls of the shop are adorned with memorabilia from the family, and from from Joe Garagiola and and Yogi Berra, local native sons. There are twenty six sandwiches on the menu both hot and cold on fresh-baked bread(so far I've tried nos. 10, 14, 15, 20, 21, 23, and 26, around $6.95), and some excellent salads with nary a leaf of Iceberg in sight (. Their sausage is truly outstanding, and despite the typical STL use of
provel
, I'd recommend their sandwiches even over Amighetti's, another staple of the Hill. Andrew had John Carney's Supreme (the pepper cheese and mustard give it some extra kick), but when we traded halves and he tried Aunt Jennie's Salsiccia Stinger he looked at the sandwich and said, "I love you" with a passion usually reserved for desserts. Speaking of dessert, the gooey butter cake cookies are worth the $1.25 price. Check out their
website
and you can print a $1.00 off lunch coupon, and see notifications of LOTS of other web deals. For example, there's a Joe Fassi customer appreciation gift card program: $5.00 for $7.00 card, $7.00 for $10.00 card, $10.00 for $15.00 card, and $14.00 for $20.00 card.
And what other sandwich shop has you eating off a marble placemat and coaster?