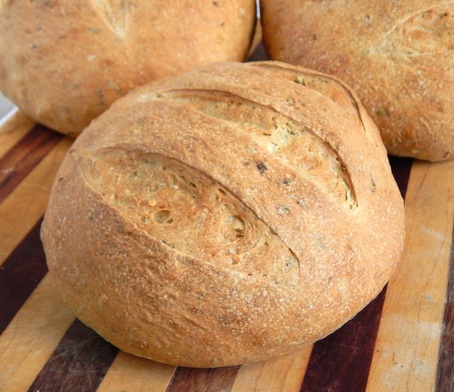 A friend invited me to supper at his house last weekend and "suggested" I might bring along some bread. This is the time of year when I try to use up whatever fresh herbs are left in the garden, and when I saw that we had some green onions in the fridge that needed to be used pretty quickly, I knew Italian Onion Herb Bread was the best possible choice. It goes well with just about any meat (we were having pork loin on the grill) plus my host's last name is DiVincenzo. I used fresh garlic chives, basil, rosemary, oregano, and a pinch of red pepper in my mix, but any dried Italian seasoning will work. I would have to rate this among the breads with the best aroma, not only while baking, but on the counter, in the bread basket, and even when wrapped in plastic. Try it and let me know what you think.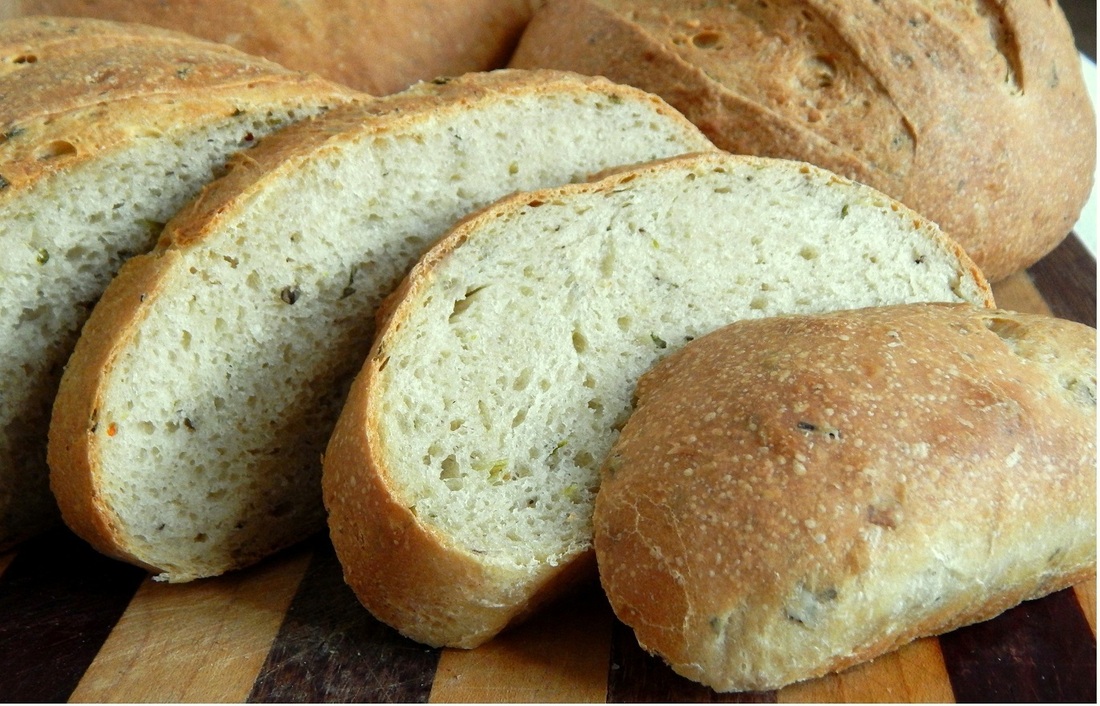 Italian Onion Herb Bread

2 pkg. active dry yeast
1 Tbs. brown sugar
2 tsp. salt
1 cup warm water (100 to 110 degrees)
1 cup milk
2 Tbs. vegetable oil (divided)
1/3 cup finely chopped onion
1 or 2 Tbs. dried Italian herb blend, or 1/4 cup fresh
5½ to 6 cups of all-purpose flour

Sauté onions in 1 tablespoon of the oil until translucent but not browned. Remove pan from heat and add remaining oil, herbs and milk---set aside to cool to lukewarm. Dissolve yeast in warm water with a pinch of the sugar. Let stand 10 minutes until foamy. In a large mixing bowl, combine milk, salt, and onion/herb mixture. Stir in yeast and remainder of sugar. Add 2 cups of flour and mix thoroughly. Add three more cups of flour, one cup at a time. About ¼ cup at a time, add enough of the remaining flour to make a moderately stiff dough. Turn out onto a lightly floured board and knead for 6 to 8 minutes, until dough is smooth, shiny and slightly sticky. Lightly oil the surface of the dough, and place in the rinsed bowl covered with a dish towel, in a warm place free from drafts. Let rise until doubled, about one hour. Punch dough down and knead again for about one minute. Form into loaves and place in greased pans. Let rise again for 30 to 45 minutes, until nearly. Bake at 375 degrees for 45 minutes or until golden brown and loaves sound hollow when tapped. Cool on racks.

Notes
---The first time you make Italian Onion Herb bread, use only 1 tablespoon of dried herb mix, and see if that's enough for your palate. If not, increase it to two. Go easy on the rosemary.
---You can try other of herbs in this recipe as well. I made it once with a combination of lovage, savory and parsley, and the community devoured six loaves at a single meal!
---If you are short on time, omit the onions and just warm the milk to 110 degrees before adding it to other ingredients along with the oil.