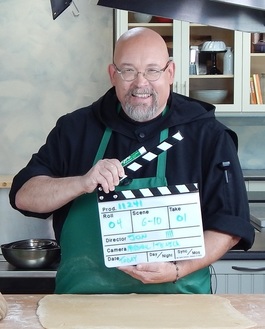 The first week of August I flew to Denver to tape a bread baking class for Craftsy, an amazing website dedicated to online learning for fiber arts, cooking, photography and more. Craftsy has over 8 million students in 200 countries, and started out with just four classes taped in the basement of the CEO's house. That CEO, Jon Levisay, just happens to be a former student of our St. Bede Academy, so when I heard that his company was beginning to expand their offerings in the food category, I sent an email inquiry. That was about 18 months ago, and soon I'll be launching an online class: Bake Your Best: Sweet Yeast Breads, Challah and More. (My class won't be available until next month, but don't sign up from the Craftsy site---Breadheads who read this blog will be able to sign up for a chance to win a free class and get a link for a discount. Stay tuned!)

The whole process of creating the class was challenging, exciting, demanding and great fun, all at once. Denise Mickelson, the acquisitions editor, guided me through the process of developing a class proposal, which was then sent to a committee who eventually gave it the green light, after making some suggestions about content. Several weeks of scripting with content editor Phil Gutensohn followed, and about three weeks of consultation with the in-studio producer, Jon Clark. All of this collaboration was done online via Google Docs, and I was even able to do some work while I was on vacation.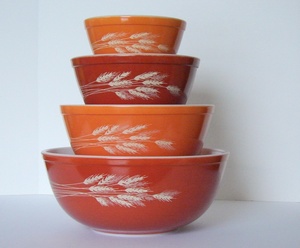 The week before the shoot, I sent seven boxes of kitchen equipment via UPS to the studio, including my full set of Autumn Harvest Pyrex bowls! Naturally my polka dot rolling pin and dough whisk were packed carefully along with other favorite utensils, my habit and all my aprons. Arriving in Denver, I was met by a Moroccan limo driver who gave me tips on how to prepare lamb kabobs and where to get good tacos near my hotel. The rest of the week I used Uber to get to and from the studio---also a new experience.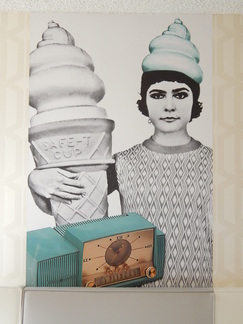 I stayed at the
Curtis Hotel,
which was a wildly different environment from the monastery: relatively quiet, but uniquely decorated according to different themes by floor. I was on 12, the "Dance Floor"---there was a bright yellow silhouette of disco John Travolta on the wall outside the elevator, and the hallway mirror was adorned with the Dirty Dancing quote "Nobody puts Baby in the corner" just to give you an idea of the decor. The "Fun and Games" floor had a wall that was a giant mural of the PacMan playing field. I recommend you stay there if you have the chance. The breakfast buffet is excellent, and it's located close to the 16th Street Mall, which is just about the best locale for people watching I have ever encountered.
I'll be posting another blog in a day or so about the whole experience of getting back to taping after such a long hiatus. For now, here's an idea of what I did during the three days of shooting.