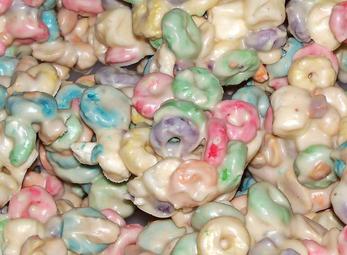 One of the joys of being a Stage Rat is to work as a counselor for our summer theatre camp for grade school children, and one of the best aspects of theatre camp is the snacks. I try to strike a balance between the sweets that they crave and the healthy stuff they should be eating, so one day they'll get watermelon slices and the next homemade caramel corn. One of the camp favorites is what we call "Fruit Poop"(grade school potty humor), a jumble of Froot Loops, peanuts and mini-marshmallows held together by peanut butter and almond bark.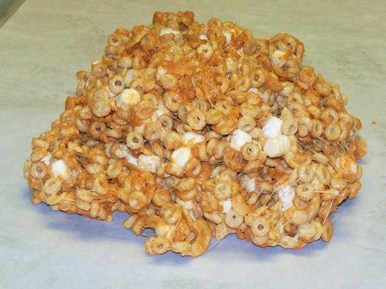 "Hurl" in its second stage.
Our love for this sugary treat has led us to experiment with other confections involving cereal, most recently a snack bar with Honey Nut Cheerios, melted marshmallows, mini-marshmallows, nuts and butterscotch chips. We've tried sugared walnuts for the nuts, then a combination of walnuts, pecans and sunflower seeds, but settled on cashews as the best choice, which makes the bars a bit pricey to make, so we'll reserve this recipe for special occasions.
The only problem was coming up with a name for this decadent dessert, which actually took us longer than it took to eat the first experimental batch. Something of a breakthrough was acheived when one of the Rats noted that at one stage in the recipe the whole mess looked like regurgitated cereal (remember, I'm dealing with teenagers here, but the photo above offers some rationale). We had several minutes of hysterical innovation, including the suggestion that we simply give it the onomotopaeic name of "Huuuuuaaagh!", but we finally settled on "Hurl" as being easier to pronounce and spell.
I am fairly certain that I am the only monk in the history of the church who has experiences like this.