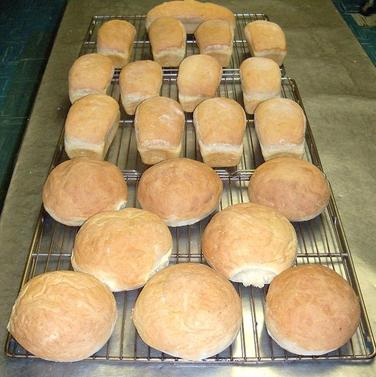 As I noted in my last post, recently we had some smashed potatoes (with the skins) left over from supper. I ran then through the ricer to smooth them out and remove the skins, and got about 8 cups of creamy smooth potatoes, and made this big batch of potato bread. The potatoes give the bread a soft, tender crumb, and when the breads go in the oven, they get a lot of "oven spring"--that big jump in volume, sometimes as much as 20%, that comes from the gases within the bread heating and expanding. The result is a soft, airy, bread that is still hearty and flavorful. If you want the recipe, click on "Bread Basic" at the top of this page for a link to "Hungarian Potato Bread" (feel free to omit the fennel seeds, as I did).
Obviously, not even the bread loving monks of St. Bede can polish all these loaves off before they start to go stale, and since I didn't have a sale this weekend, I decided to freeze most of them for use at some upcoming events. There are two methods for freezing bread, one for short term (3 weeks) and one for long term storage (up to six months).
No matter how long you intend to store bread, it must be completely cool before you wrap it. As freshly baked bread cools, moisture evaporates from the warm center to the surface. If you wrap it while it is warm, the moisture will condense on the crust of the bread and the interior of your wrapper, causing the bread to be soggy when thawed. I generally wait three or four hours before wrapping freshly baked bread, depending upon the temperature of the kitchen. Don't try to speed things up by placing the unwrapped bread in the fridge; the surface will cool but the center will remain warm. Just be patient and wrapped the bread when it's absolutly stone cold.
If you intend to store a loaf of bread in the freezer for no more than two or three weeks, you can wrap it tightly in a single layer of plastic wrap, or place it in a re-used bread bag and expel as much of the air as possible before sealing it with a twist tie or masking tape. Store-bought bread in its original wrapper will keep in the freezer for about two or three weeks as well.
However, ordinary bread bags and plastic wrap are not really designed for long-term storage in the freezer. Bread that will be frozen for more than a couple of weeks must be double-wrapped in freezer quality plastic wrap OR wrapped once in regular plastic wrap and then stored in a zip-lock freezer bag. Some people suggest one layer of freezer quality plastic and another of aluminum foil or freezer paper. A vacuum sealer like FreshLock or FoodSaver will also do the job quite nicely--but if you have one, you probably already knew that!
When it comes time to thaw the bread, a one pound loaf in its wrapper will thaw completely in about three hours at room temperature. I don't recommend the defrost cycle of a microwave--I think it makes the bread tough and chewy (and not in a good way). Some people prefer to freeze their bread already sliced, and just remove the number of slices they want. A slice of frozen bread will thaw on a countertop, uncovered, in about 10 minutes.
What about freezing bread dough for baking later? That's a post for another day!