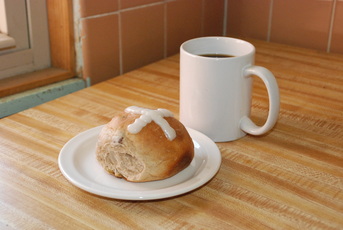 Hot Cross Buns are a traditional bread for Good Friday, especially in the Bristish Isles where they originated. Today the cross is usually made of frosting, but originally it was cut into the dough before baking. The cross, of course, is a symbol of the Crucifixion, but it's likely cutting a cross or "X" into a roll pre-dates Christianity. Some food historians believe that the Saxons cut a cross into rolls served in the spring in honor of the goddess Eostre, the sections symbolizing the four quarters of the moon. In Ireland, an "X" was slashed in every loaf of bread "to let out the fairies" although how they got caught in the dough in the first place is a mystery!
Because such rolls were associated with "supersition and popery" their sale was forbidden under Elizabeth I, making them a strictly homemade treat. Such restrictions were eventually relaxed, leading to the famous seller's cry: "Hot cross buns! Hot cross buns! One ha' penny, two ha' penny, hot cross buns!" The first recorded use of the term "hot cross bun" was not until 1733. They have come to be associated with Good Friday, funeral dinners, and in some places, Christmas.
However, my Grandpa Frankie (who was Austrian) loved them so much that my (very Irish) Grandma Tootsie would make them througout the year. I myself try to make them on Ash Wednesday, Good Friday, and the last Sunday of Easter. So last night while everyone else was at the community's Mardi Gras haustus, I was in the kitchen making hot cross buns. I've posted my original recipe
HERE
, which is from the first season of
Breaking Bread
. (N.B. I usually double or even triple the cinnamon now!)
Since then I've tried to make a better bun---softer, less dense---so now I take potato roll dough and add the spices and raisins to that. Any potato roll recipe that makes a dozen rolls will do; just add a tablespoon of cinnamon and a cup of raisins or currants. The results really are a bit of heaven, so much so that perhaps they don't even count as a penance! But if one yummy roll and a bit of coffee is all you eat until your small-bowl-of-soup lunch until your modest-and-meatless supper, well then I'd say Lent is well underway.