Tonight I'm speaking at the Illinois Valley Herb Guild in Standard. It's our annual soup night, so I'm showing some herbal bread groups. Normally I make out a lot of handouts with recipes, but I was recently at an annual conference where they decided to be more green and do more online sharing. If you wanted to keep a handout or fill out a survey, you did it online. Knowing that many if not most of our members are online, I figured I would make a post with lnks to the recipes. I'll take a few copies with me (I know of at least one member who doesn't use the Internet) but otherwise, they (and you) can choose what to download and/or print.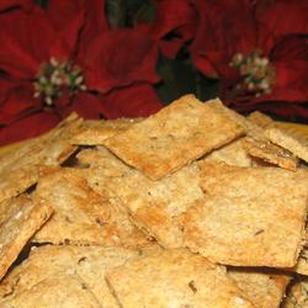 The first recipe I tried was for "New York City Rye Crackers." NYC rye bread has a light onion-y flavor, as do these crackers, along with the customary caraway flavor. This isn't my photo---it's from the website where I found the recipe. Click
HERE
to get it. These are marvelously crisp and flavorful, and if you use stone ground rye flour they have added crunch. Definitely a keeper.
Next up, a cheddar cheese cracker recipe I adapted from a food blog called "A Sweet Pea Chef"--it's her photo at the left and the recipe is

HERE

. I adapted it by adding two teaspoons of ground hot pepper flakes and a cup of cheddar cheese. How did I know it would work? Well, I didn't, but that's how I ride. Like we say in stage crew" "Fail often to succeed sooner!" Fortunately, these were anything but a failure.

My dear friend Vicki came out to help me (she's a founding member of the Herb Guild and an avid baker) and we decided to make the hot pepper cheddar crackers in the shape of hearts. She patiently rolled the dough out and cut out over 6 dozen. They were good just as is, but when we sprayed them with just a little canola oil and sprinkled them with kosher salt---perfection!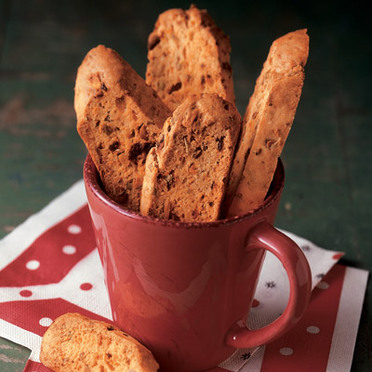 Then we made a savory biscotti recipe from Land O' Lakes Butter. Once again, it's the photo from their website and the recipe is
HERE
. Sun dried tomatoes, chopped pistachios, cheese, and rosemary combine perfectly in this recipe for a crisp biscotti that's not too hard and begs to be dunked into hot broth. I thought the flavors would be too strong and might compete with soup, but they're subtle without being bland.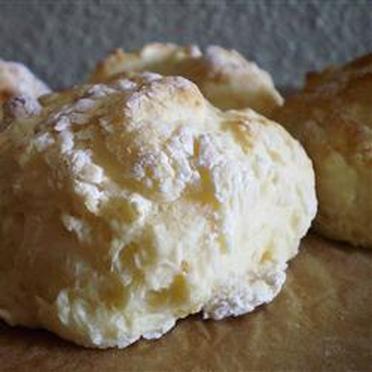 Sour cream biscuits sounded quick and easy. You can use the recipe I found
HERE
along with this photo (we were too busy baking to stop and take pictures every 20 minutes!). But you don't need a recipe other than this: 2 cups of self-rising flour, 3/4 cup of sour cream, 2 Tbs. of dill, and 2 or 3 tablespoons of water. Mix, knead gently 5 or 6 strokes, and drop by tablespoons onto a baking sheet with parchment. 10 minutes at 450 degrees F. and you've got biscuits.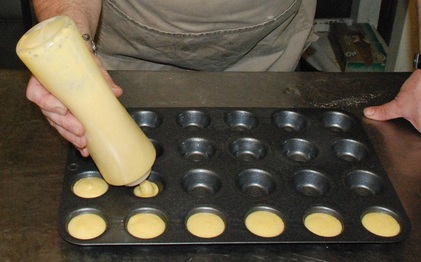 At the last minute we decided to make some simple cornmeal mini-muffins. I had an authentic Southern Cornmeal Muffin mix from a mill in Kentucky, and we made it up with bacon grease in place of the oil---mmmm! Fill those mini-muffin cups with a squeeze bottle and you'll get uniform muffins with very little mess. Vi cki was so astonished at how easy it was that she volunteered to do the dishes. In a few hours we had made four kinds of breads plus the NYC rye crackers I had done the day before. Can't wait to try all the soups those herb gardeners have come up with!