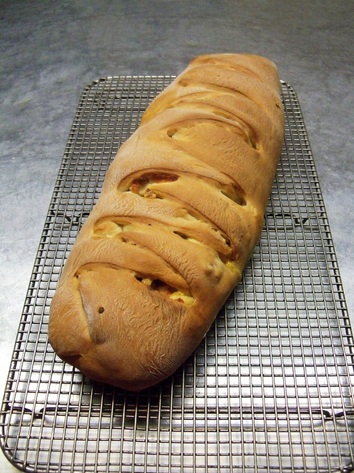 These photos are not the greatest, but I did want to share this recipe for a "Harvest Braid" which uses the "lattice" technique for shaping a loaf. It appears braided but is actually a series of strips folded over the top of the filling. It's filled with ham, sharp cheddar, chopped apples, and walnuts--perfect flavors for fall baking. Easy and beautiful!

Harvest Braid
Any dough, enough for one loaf of bread
1 ½ cups coarsely chopped ham
1 ½ cups sharp Cheddar cheese
½ cup chopped walnuts
1 ¼ cups peeled and chopped apples
1 egg beaten with 1 tablespoon of water for egg wash (optional)

Prepare dough though the first rising. Punch dough down and knead briefly to expel larger air bubbles. On a lightly floured board, roll out to a rectangle about 18 x 10 inches. Prepare filling by combining ham and cheese in a medium size bowl and tossing to mix. Spread filling lengthwise in the center third of the dough, pressing it together lightly.

Using a sharp knife or a small pizza cutter, cut each outer third of the dough (the part not covered by the filling) into 5 to 10 diagonal strips, cutting from the edge of the dough to about 1 inch from the edge of the filling. Lightly brush strips with water. Fold strips over filling, alternating left and right, being careful not to stretch the dough. Tuck in the ends of the last strips and pinch to seal. Carefully transfer to a lightly greased 13 x 9 x 2-inch baking pan. Cover and let rise in a warm, draft-free place for 30 minutes or until doubled.

If desired, brush surface of loaf with egg wash. Bake in a preheated 375 degree oven for 30 minutes or until golden brown and the temperature of the filling is at least 160 degrees. Allow to cool on pan for 10 minutes before removing to a wire rack to cool slightly before serving.