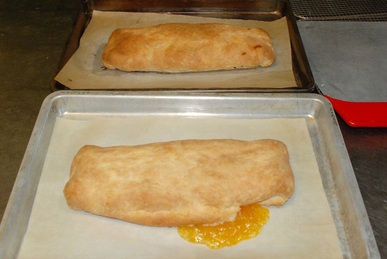 A little too much filling in the one up front---read the end of the recipe for advice.
When my sister Angela was little, she was unable to pronounce our family name "Garramone," so my father's mother became "Grandma Gome" (pronounced GO-me). Grandma was an excellent baker, and this Danish Kringle was one of her favorite recipes. It's quite different from the kringle made with yeasted pastry dough. It's both simpler and more difficult: only a few ingredients, but a lot of technique. Rolling out and shaping such a rich dough can be a bit intimidating, but it's well worth the effort.

I hadn't made this recipe in years, so I pulled it out this week and made a couple of breakfast pastries. I always keep a variety of Solo cake and pastry fillings in the pantry, so I decided on apricot and cherry. The dough was easier to roll out than I remembered, but I have had more experience with pastry dough since the last time I made this recipe, which seems to have paid off.

I enjoyed thinking of my grandma rolling out this dough to make a sweet treat for her three sons. That is one of the distinct pleasures of baking from family recipes: the sense of heritage, of being connected to someone you love over time and space, that even death hasn't separated you entirely from your kitchen mentors. Grandma Gome was also famous for her cinnamon rolls, but the recipe she handed down (and I have the one written by her own hand) has vague expressions like "enough" flour or "bake until done" so I'm going to have to do a little retro-engineering. I'll be sure to report on that soon, but for now, make a couple of pastries, on for your family and one to share.

Grandma Gome's Shortcut Kringle
2 cups flour
2 sticks butter
1 cup sour cream
1 15-oz. can apple pie filling (or any flavor you like).

In a medium size bowl, cut butter into flour using a pastry blender or two knives. Butter should be in pieces about the size of peas (slightly larger pieces than for a pie crust). Mix in sour cream until well blended, and knead once or twice, just long enough to collect stray pieces into a ball. Wrap dough in plastic or waxed paper, and chill for at least two hours. Divide dough into two pieces. On a well-floured board or pastry cloth, roll a piece into a 12" x 14" rectangle. Spread half of the apple pie filling down the center third of the dough, leaving a 2" border at top and bottom. Fold over sides to center and pinch to seal. Fold top and bottom borders in and pinch to seal. Carefully lift kringle and place it, seam side down, onto an ungreased 9" x 13" jelly roll pan. Repeat with second portion of dough, using a second pan. Bake in a preheated 400° F. oven for 10 minutes, then reduce heat to 350° and bake for another 35 minutes or until brown. Remove from oven and let the pastry settle for about 10 minutes before transferring to a wire rack to cool slightly. Best when served warm, drizzled lightly with powdered sugar icing, but these also will keep for a day or two and bear re-heating.

NOTE: I used the 12 oz. cans of Solo Cake and Pastry Filling, but I really needed only 8 0z. worth. I didn't know what to do with just 4 oz. of filling, so I used it all. In hindsight, I should have just spread it on toast the next morning! The apricot pastry in the foreground of the photo split during baking and spilled some of its filling. For the raspberry pastry in the back, I rolled the dough as directed, spread half the can of filling just slightly to the left of the center of the dough, flipped the left hand section of dough on top of that filling, spread the rest on top and flipped the right side of the dough. This "double decker" pastry worked out much better and tasted wonderful.