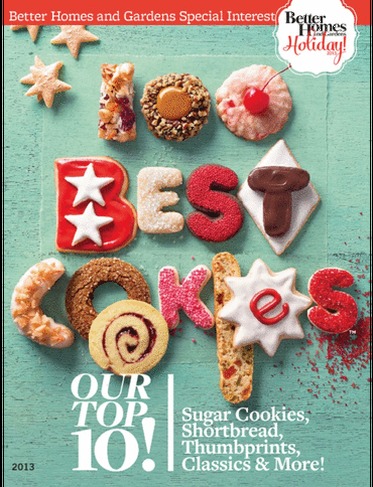 My sibs and I were fortunate to grow up in a cookie-baking family. Making cookies was a regular activity, and my mother owns over 5,000 cookie cutters, so you name the holiday (including
Groundhog Day
!) she had the cutter. So even though I'm "The Bread Monk" I always keep an eye out in the grocery checkout line when the Christmas cookie magazines start to appear. I rarely buy them, but this year I
had
to get the Better Home and Gardens
100 Best Cookies 2013
. I think they do a 100 Best Cookies every year, but this year for some reason I wanted to bake---and
eat
---something on every page! The issue includes classics like peanut blossoms, biscotti, pecan sandies, and raisin oatmeal, plus 10 different recipes for tassies, macaroons, bar cookies, shaped cookies, slice and bake, etc. I intend to bake my way through this magazine over the next year, which should make my religion classes
very
happy.
You might think (and rightfully so)
Why didn't you tell us about this magazine when it was actually on the shelves?!
In my defense, just a gentle reminder: Between Advent, midterms, and Christmas, things get a little busy around Saint Bede! However, if you are tech savvy enough to be reading this blog, then you can get a digital version of this magazine to download to your tablet or smartphone: click
HERE
to order. BTW, I'm not getting any compensation from BHG or the Meredith Corporation---I just like this particular issue a lot!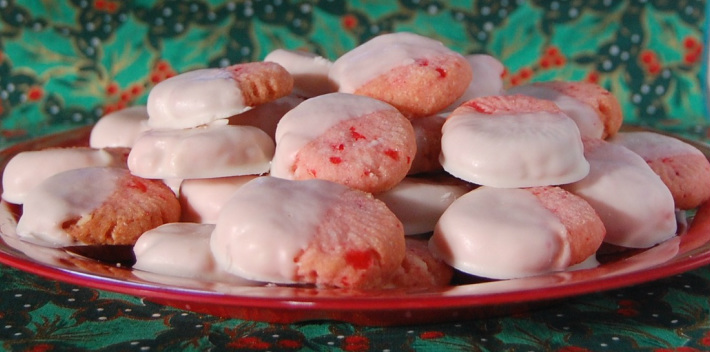 Here is the first recipe I tried: shortbread cookies flavored with maraschino cherries and dipped in white chocolate. They are irresistible, especially accompanied by Earl Grey Tea, and since they are only about 1 1/2" across, you can eat two or three without guilt. BHG has featured the recipe several times in various publications: Click
HERE
for an online version. I think they'd make a lovely Valentine cookie as well. The recipe doesn't tell you this, but a 10-ounce jar of cherries is the exact amount needed to make these cookies.