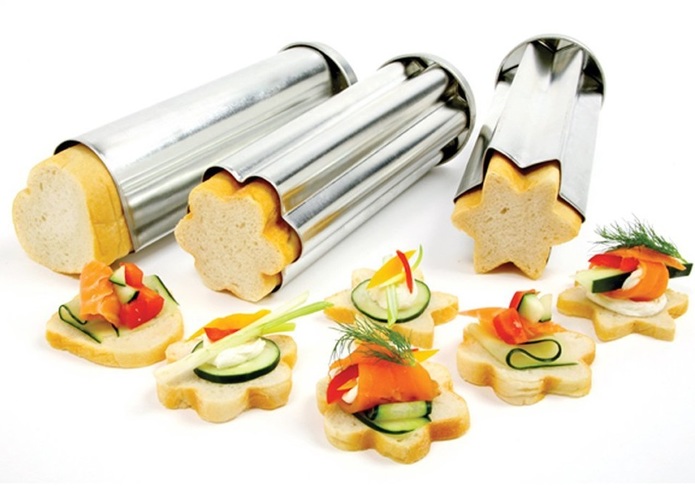 Go to the kitchen aisle of any second hand shop and chances are you'll find at least one canape bread mold, perhaps several. Pampered Chef used to sell them, and I'm told that people often bought them because they were a relatively inexpensive item, rather than because they intended to make fancy canapes. They no longer carry them, but Norpro still makes them and they are available on
Amazon
. But check the Goodwill and Salvation Army stores first, believe me. I own about a dozen of these and have never paid more than $2. In addition to these shapes, Norpro also sells one shaped like a
five-pointed star
, available separately.
I hosted a holiday gourmet pizza party last night and wanted to serve a soup course. I made a spicy minestone with homemade sausage, and decided to use the star bread mold to make toasted garlic stars. I used the same
dough
as for the pizza crusts, and made two loaves with the five-pointed star and two with the six-pointed. It's really simple: spray the inside of the mold and the lids with pan spray, drop in a portion of dough (enough to fill the mold about one-third) put the lid on and stand it upright to rise. I prefer to keep upright in the oven as well, but you can bake them on their sides,too. At 375 degrees F., the loaves are done in 12 to 15 minutes, and slide right out of the tubes. If you stand the loaves upright to cool, they don't get any weird hash marks from the wire rack.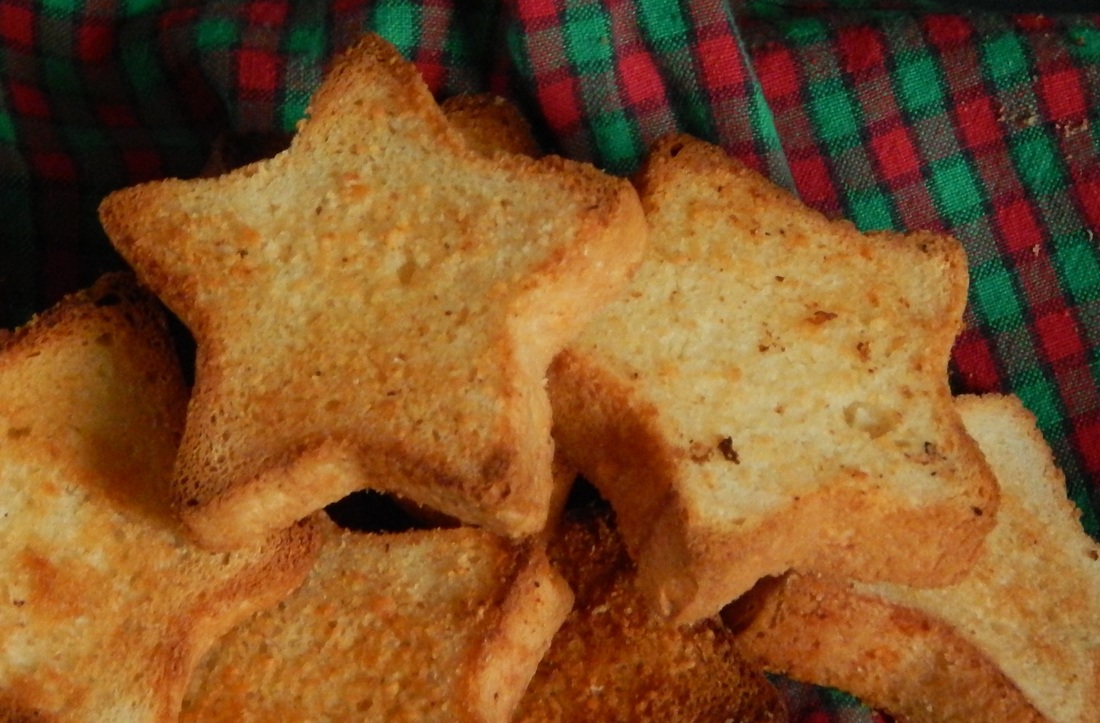 For the garlic stars, I sliced the bread and spread the slices with butter mixed with garlic powder and a little Parmesan. Back on the pan and into the oven for 1o more minutes, (set the timer or you'll forget about them as I almost did!). The result is festive toasted garlic stars to adorn your Christmas buffet (you can use the six pointed star mold for celebrating Hannukah). You can easily bake the bread a day or two ahead of time, and the shaped loaves can easily fit in a packed holiday freezer if you make them even further ahead of time.
And time is the issue during the holidays, isn't it? Even monks can feel the pinch, especially since we don't do any decorating until December 23 or so. Do don't hit yourself with the guilt hammer if you don't have star-shaped garlic toast for the family buffet. Save the heart-shaped mold for Valentine's Day, or the flower-shaped one for Mother's Day. Store the idea for a rainy day when the kids are bored, and keep your eyes open at garage sales for the bread molds.
God bless and happy baking!
P.S. Be sure to go to my
home page
and get the link for a 50% off coupon for my Craftsy online baking class "Bake Your Best: Sweet Yeast Breads, Challah and More." No matter which holiday you celebrate this time of year, you'll learn a recipe and techniques to make a special holiday btteat for your family.