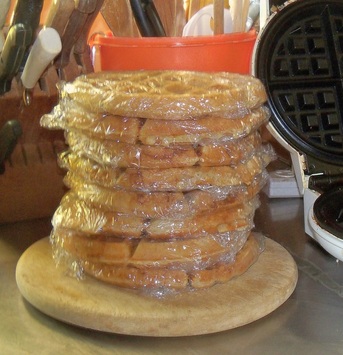 Finally
got back to baking after a couple of weeks of work on the Homecoming Variety Show. I decided to renew my sourdough starters and then make some multigrain waffles to put into the freezer for those mornings when the selection on the breakfast cart looks a little thin. I generally warm these in halves using the wide- slot toaster rather than the microwave, because I like a little crunch on the edges. There was some Cream of Wheat leftover from breakfast a few days ago, so I whisked it into the batter along with wheat germ, wheat bran, cornmeal and quick cooking oatmeal. If you want to know more about care and feeding of sourdough starters and how to use them on waffles, pancakes and biscuits, you can get my sourdough workshop notes and recipes by clicking
here
.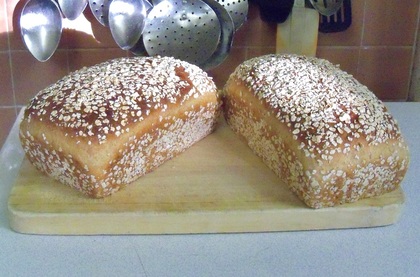 I also made some honey oatmeal bread this afternoon, for no other reason than because it's a monastery favorite. In fact, it's the recipe that people most often tell me is their family's favorite as well. Try it for yourself by downloading the recipe
here
, and let me know what
your
family thinks. Remember that fully cooked bread is usually 190 to 195 degrees F., but a multigrain bread--especially this one--needs to be baked to 200 to 205 degrees F. or you'll find it a bit doughy and/or yeasty in the middle.