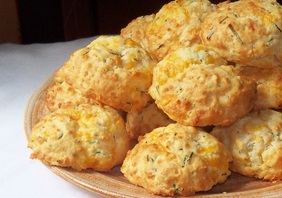 We had a lovely evening last night at St. Louis parish in Princeton IL. The local chapter of the Council of Catholic Women had invited me last February to give a presentation but it was cancelled because of freezing rain. After a few other attempts, we re-scheduled for last night---and in the late morning it started to SNOW! Fortunately, it didn't stick around long and didn't seem to deter anyone. We had over 50 ladies attend.
The committee served three different kinds of soup plus crackers, and then we passed around all of my samples as well. I made the cheddar chive drop biscuits pictured above (recipe
HERE
) plus I had a batch made ahead using Italian herbs and cheeses. They mix up in no time and bake for only 12 - 15 minutes, so you can be serving them hot in less than half an hour. I followed my sister Lisa's suggestion and brushed them with garlic butter before serving.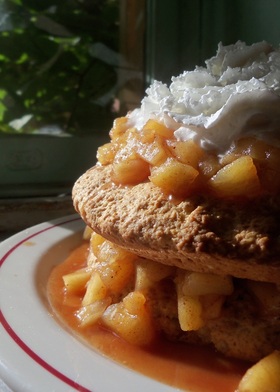 Next up, Nutty Whole Grain Shortcake, which veteran Breadheads have seen on this blog before (click
HERE
for the recipe). The flavors of this fall dessert are exquisite, and you get the taste of sweet, tart, salt and bitter all at once. You can make this with just about any fruit, but I like it best with apples, pears, or peaches. If you're in a pinch, you can even top it with apple pie filling, but I usually cut the apple slices a little smaller and add a dash of apple cider vinegar to increase the tartness---some extra cinnamon doesn't hurt either. We made smaller sample-sized portions and let everyone have a taste.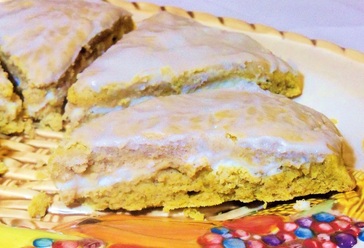 Lastly, I made another monastery fall favorite: gluten-free Pumpkin Scones with cream cheese filling (click
HERE
for the recipe). Everyone loved these, especially our one celiac sufferer. I used Hodgson Mill's Gluten Free Baking Mix (click
HERE
to see their whole gluten-free product line*), but have also been successful with this recipe using gluten--free mixes from King Arthur Flour and Bob's Red Mill. All-purpose flour works fine for those who don't have dietary restrictions. Spreading the sweetened cream cheese over the bottom layer of soft scone dough is tricky--it's actually easiest to place it as a series of small blobs with a teaspoon!--but the filling makes the scone wonderfully moist.
We were having too much fun last night to think to take any pictures, but I hope the photos above will inspire to try one or more of these recipes. Remember, if you have photos of breads you've baked that you'd like to share, e-mail them to me at
askfrdom@breadmonk.com
, and I'll try to post them on the Breadhead Gallery page.
*Hodgson Mill sent me a selection of their gluten-free products to try. Opinions here are my own, and I have received no other compensation for this post.