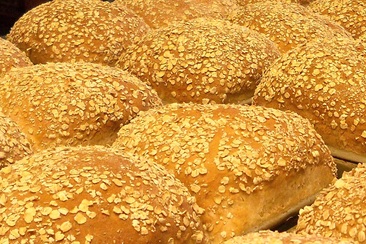 The Stage Rats came out last night to get ready for today's Illinois Valley Herb Guild plant sale and garden faire. Most of them laid down the tarp on the gym floor and set up tables while freshman Brandon Glynn and I made honey oatmeal bread to sell at the faire. The faire was a success and the Guild sold a good number of plants but we still have some left over, including a flat of basil, if anyone is interested.
I like baking for big events, although I can never seem to make enough bread to last for more than an hour or so. The record was the 120 loaves I made for a Medieval Faire some years ago that sold in 45 minutes. Sometimes when I bring loaves to a church bake sale, they never make it to the table because the workers buy them before the doors open! (That says more about the power of homemade bread than about my abilities.) We only baked 26 loaves last night; one went to the monks, one to an auction winner, and one went home with one of the Rats whose mom requested one. The rest sold in about an hour.
The auction winner mentioned above is my dentist, who attended our Academy's annual dinner auction this year and successfully bid on "Bread for a Year" (I think the winning bid was $450). Every time I bake for the next year, I'll set aside at least one loaf for his family. His daughter goes to the Academy, so I suspect she'll be the delivery service during the school year. I did this last year, too, and realized at some point that I'd gone a whole year without making caramel pecan cinnamon rolls, so last's year's winner will get an additional treat sometime soon! I'll be sure to post pictures of those, too, which will make you want to learn to bake them yourself, I'm sure. Recipe to be posted with the pictures.
Speaking of events, be sure to keep checking the "Upcoming Events" page. I have a lot of appearances to make this summer, many of which will be open to the public. I always post contact information for the group organizing the event. I just posted info about a class I'm teaching at St. Louis Missouri Botanical Gardens July 7th, but the class is already full---all 20 spots were reserved within 24 hours of the first e-mail! But I'm giving a similar program in the Belleville IL area earlier in the week--details coming soon.