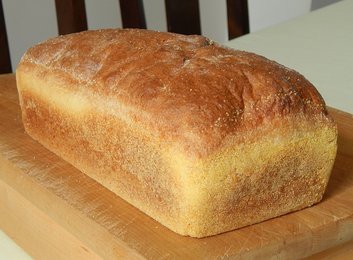 There are few things I like better than toasted bread, whether it's honey oatmeal, whole wheat, basic white, or a bagel. I prefer my toast darker than most, always buttered, and usually adorned with cinnamon sugar or preserves. So it seemed a good idea to develop a recipe for English Muffin Bread when I was working on the episodes for season two of Breaking Bread with Father Dominic. Seeing---and purchasing---a set of round stoneware crocks at a friend's kitchen shop sealed the deal.

There are a lot of versions of this recipe out there, as English muffin bread seems to be quite popular in many bed and breakfast inns. Bread machine and microwave versions abound, but a lot of the recipes I've seen in cookbooks or on the Internet seem almost indistinguishable from ordinary white bread, and some have way too much salt. I think you'll enjoy this version, which is fast and easy, and develops the lovely large holes which catch melted butter and jam so well.

One version of the recipe to avoid in particular: the one published by Fleischmann's Yeast as a magazine ad back in 2000. It contained a typo which caused the dough to be too liquid and to overflow the pans! We got a lot of mail about that, believe me, and since I proofed the copy, I was as much at fault as anyone. I recently received Facebook message from someone who used that recipe, which she had cut out long ago and never used until now, so I was embarrassed all over again! So I promised her to publish a corrected version.

The recipe below is the correct one, and since few people have four round stoneware crocks lying around, I tested the recipe in a 9" x 5" x 3" loaf pan and got excellent results, so I have adapted the recipe accordingly. As you can see, it produces a slice with lovely, large holes to capture butter and jam. Since it uses fast-rising yeast, you can have the recipe done in about 90 minutes, but in my experience it's best to let the loaf cool completely---at least 3 hours---before cutting a slice.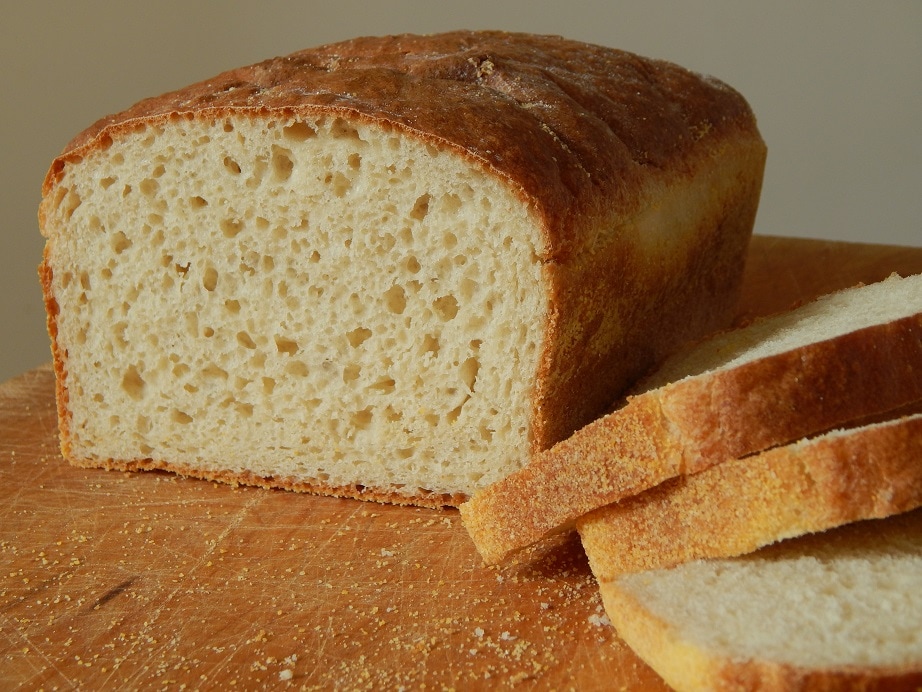 English Muffin Bread
1 pkg. fast-rising yeast
3 cups all-purpose flour
2 Tbs. brown sugar
1 tsp. salt
¼ tsp. baking soda
1 cup milk
¾ cup water
cornmeal

In a medium size bowl, combine yeast, flour, sugar, salt, and soda.
Combine milk and water and heat to 120 to 130 degrees F. Pour into dry mixture and beat well for about 5 minutes by hand, 2 or 3 by mixer on medium speed---it will make a slightly stiff batter.
Allow batter to rest for 10 minutes. Coat the inside of a large loaf pan (9" x 5" x 3") with cooking spray and sprinkle with cornmeal. Spoon batter into the prepared pan and sprinkle cornmeal lightly over the top of the batter. Cover with a light towel and let rise in warm place for 20 to 30 minutes, or until batter nearly reaches the top of the pan.

Bake at 400 degrees for 35 to 40 minutes---if the top of the loaf begins to brown too quickly, cover them lightly with aluminum foil. Remove from pan and cool on a wire rack completely before serving.