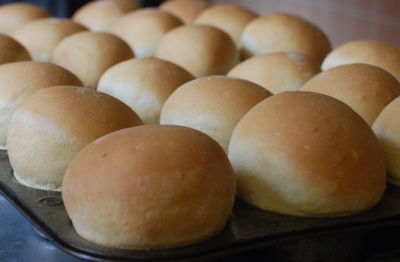 Straight out of the oven. If these were any fresher, they would still be dough.
Do you ever wonder how bakeries get those perfectly round, uniformly sized buns and dinner rolls? When I was in college at Illinois Wesleyan University I worked in the kitchen and found out that when making rolls many institutional or commercial bakeries use a "rounder." It's a machine with two horizontal disks--each with twelve round "divots"--that rotate in opposite directions. The pre-measured dough is placed between the two disks, the machine is switched on, and you get a dozen perfectly round, uniformly sized balls of dough. There are machines that cut 24 pounds of dough into 1 pound pieces in seconds, no weighing needed, and machines that shape those pieces of dough into round or oval loaves, or baguettes, or flatten them into pizza rounds.

Cheaters.

I shouldn't say that, I suppose. The profit margin at bakeries is fairly narrow, and given how expensive those machines are, it takes a lot of dough to pay for them, as it were. There's no way you can do the kind of volume many bakeries must produce without some kind of mechanical assistance. And there are plenty of smaller bakeries around that still do a great deal of hand shaping. You have to respect anybody who gets up as early as bakers do, and works in a kitchen with five or six ovens and no AC in the Midwest summers.

I guess the real problem I have is that we often tend to compare our baking against such mechanized perfection. I hear a lot of people complain that their rolls taste good but they never come out the same size. "Good!" I tell them; "Your family will know they were made by a human being---that your hands, your loving heart made those rolls." Let's not be so hard on ourselves, people; it's not like your baking for the county fair every week.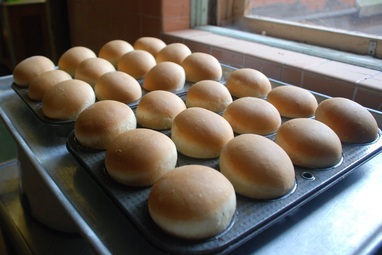 Dinner rolls cooling by the window of the abbey kitchen.
Take a good look at the rolls I just made this afternoon for monk supper. (We're having beef tips in gravy over buttered noodles, and I like to have something to sop up the gravy!) A close look will see that they are not all exactly the same size. Given that 98 pound Fr. Claude will want a smaller roll and our big auto mechanic Fr. Ambrose will want something a bit more substantial, that's going to work out just fine. They're not going to stay side by side in the basket for comparison very long anyway. The important thing is that they know I made them to show my love for the community.

I will admit, when I have made rolls for a cookbook or magazine photo shoot, I have actually used a scale and weighed the dough: 2 1/2 ounces for a medium sized roll, 3 ounces for a large bun. But I think it's more important that rolls have a uniformly smooth surface than be all the same size. There's a bit of a trick to that, but fortunately for you, dear Breadheads, I have a video.
This technique works with any rolls dough recipe, but click
HERE
for one that's monk-tested. I'd love to see photos of your successes (or stories of your failures, so I can help you improve!) so e-mail me at
askfrdom@breadmonk.com
.
God bless and happy baking!