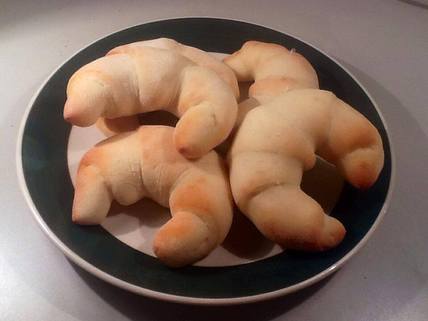 Yesterday I was on the phone with my mom and asked her what she wanted me to make for Thanksgiving: potato rolls, rose rolls, or sour cream crescent rolls. These recipes are all Thanksgiving favorites for my monastic family, but since mom is going to be our guest I figured I'd ask her opinion. She opted, as I suspected she would, for the sour cream crescent rolls, also known (in my family) as "Fred Flintstone Telephone Rolls."
My brothers and sisters and I loved crescent rolls when we were growing up, and my mom can make them like no other. We call them "Fred Flintstone Telephone Rolls" because to us they looked like the telephones on The Flintstones. When these rolls were served, it was one of the few times you were allowed to "play with your food"--we would pretend to dial the phone and call each other up using the crescent rolls as receivers.
Once when my mom was looking for a recipe for crescent rolls, she searched for an hour in every cookbook without success--because she was looking under "F"! We had become so used to the name we had given them, she had forgotten what everyone else calls them.
These rich are surprisingly easy to make, but they do require a longer rising time because of the richness of the dough. The recipe is
HERE
.