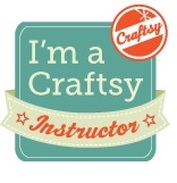 The ongoing account of my days of shooting a six part online class for Craftsy.com August 2- 5 . . .

The class is titled "Bake You Best: Sweet Yeast Breads, Challah and More" and will launch by early September. Stay tuned to this blog for a chance to be enrolled in the class for FREE and for other special discounts.
​
Thursday's shoot began with a blossom and ended with a braid. Apricot Blossom Coffeecake is a monastery favorite which has not yet made it into a cookbook but has been featured in this blog before (clock
HERE
for the photo tutorial). There was one error that could have been disastrous if we had been baking for something other than a taped class and the accompanying photos. Brian, one of my kitchen angels, had never used nor seen coriander before, and it was one of the ingredients in the apricot filling. Evidently the jar lids had been switched, and he used
garam masala
instead, which has coriander in it but a LOT of other spices as well, including a healthy amount of black pepper! The bread was unexpectedly spicy, but if he had used about half the amount, it would have been one of those sweet/hot flavor profiles that would pair well with a creamy cheese. A happy accident might yield a new recipe . . .
Next we started on the challah portion of the class. My orginal class proposal had been just for breakfast breads, but the green light committee had decided they wanted challah added, first as a single lesson and then they expanded it to three lessons. I must admit, the class is much more interesting and educational thanks to their input.

Challah is a part of Jewish baking tradition and is often served for the Sabbath and for holidays. It's a bread rich with eggs, slightly sweet and utterly delicious. I made my first loaf for a cast party for Fiddler on the Roof when I was a senior in high school and have been baking it regularly ever since. A braided loaf is the traditional shape, but until I started researching for this class, I had no idea just how many kinds of braids are out there. Challah is often served as pull-apart rolls as well, which is the first shape we featured in the class.
The recipe I used was one a developed specifically for the class (I promise I'll share it eventually) to be made in a KitchenAid or other stand mixer. Challah dough often comes in huge proportions, since people are baking for larger groups for the holidays---recipes using 5 lbs. of flour are not uncommon. This one can be made in the very smallest model of KitchenAid, the one you buy first and use until you realize you want to make biggest batches of challah! I showed how to make braided sandwich rolls, another common shape for challah.
Lastly for this lesson I showed a slab braid, which I've featured on this blog several times.
HERE
is the YouTube video that I made a few years ago. A slab braid is a lot easier to shape than one that requires you to roll out ropes or strands to exactly the right size and shape. But that is exactly what we did in the next lesson, showing a three and a six strand braid using the traditional method.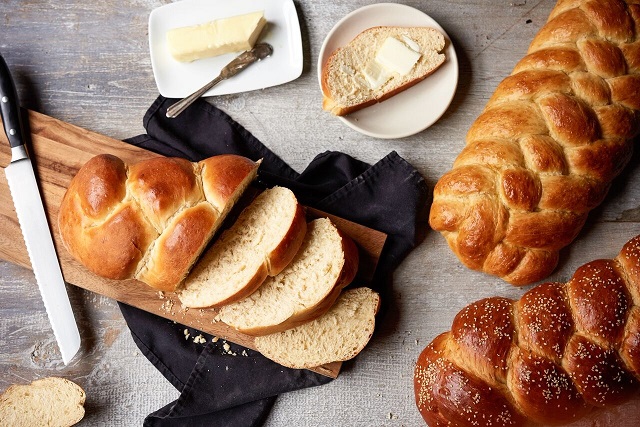 Clockwise from left: slab braid, six strand braid (both with an egg white wash) and three strand braid with a whole egg wash and sesame seed topping. Photo: Craftsy.com
Shooting on Thursday went a little overtime, and when I got back to the hotel my cousin was already waiting for me with two large pizzas from Amici's in Wheat Ridge (a family favorite) and we went to my uncle and aunt's house for a little family reunion. Lots of love and laughs and red wine, and way more food than we needed---which is to say, just as it always is in our Italian family!

Next up: Crown braid and chocolate babka!