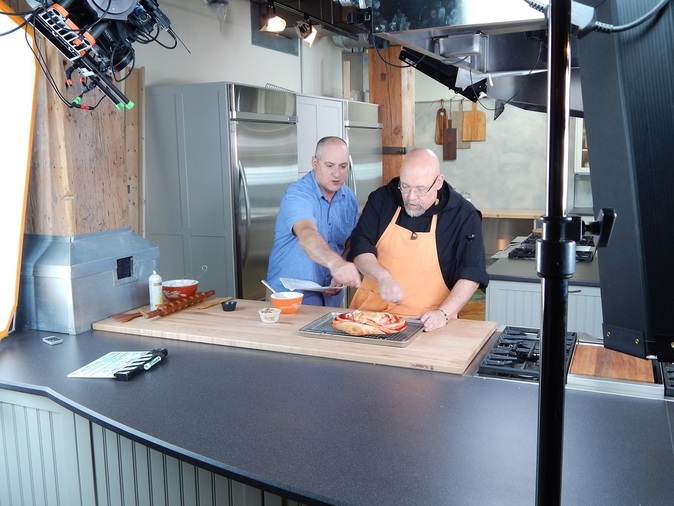 Day one of my Craftsy class taping was spent consulting with the Jon Clark, the producer. Given the number of their teachers who have little or no television experience, Jon is the ideal Craftsy producer: utterly unflappable, endlessly patient and unfailingly kind. I was also to discover that logistical skills rival those of the Allied invasion, and as a person who has produced and directed videos myself, I know how valuable that skill is.
Samantha Sherman, the kitchen production manager, was just as well-organized, and only once did she and her crew produce a dough that was a little stiff—their first time making challah in the mixer. Otherwise, everything that came on set was the perfect consistency and timed to be sufficiently risen for use. Some dough we had to slow down in the fridge and once we had to wait while something proofed. But every time we got off schedule, we adjusted, did something else in the meanwhile, and still ended pretty much on time.
​
After our prep and practice day, I went back to the hotel, changed into more casual clothes, and headed off to the ballpark with my cousin Chris. My parents were from Denver originally before moving to Peoria when my dad got a job with Caterpillar, so I still have family out there. The Rockies played the Dodgers. We sat above the scoreboard in right field, and the right fielder for the Dodgers, Riddick, had just been traded from the A's, a National League team, and so he hadn't played against much against the American Leaguers. Periodically he would take off his hat, and from our vantage point we could see that he had a cheat sheet hidden in his cap! He'd steal a glance as a hitter came up to bat and then adjust his position. As with many cheat sheets, it didn't help much: Rockies won 7 to 3.

On our way to our seats I saw a touching sight. There was a large bearded man escorting his family to their seats. His eldest daughter appeared to be about 12 years old and seemed to be especially unnerved by the crowds. He held her hand, the rest of the family trailing behind, without a sign of annoyance or impatience on his face, matching his pace to hers.

There was a bit of a rain delay early in the game, which mean that I got back to the hotel a little later than I would have liked. But after a successful prep session, I went to sleep without anxiety about the first day of shooting. I woke up the next morning with a kind of pleasurable nervous anticipation, like actors have before opening night of a revival of a successful show: familiar but new, confident but not complacent.

Next blog: First day of shooting!