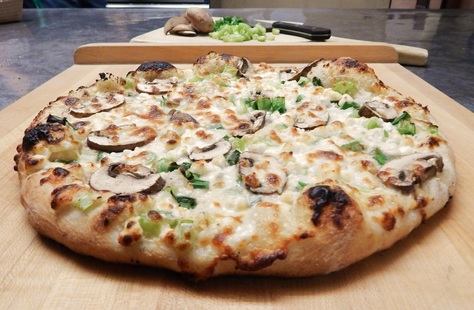 The pizza paragon at left is my most recent creation, inspired by one of the foundations of French cooking,
Béchamel sauce (known as one of the "mother sauces"). If can learn to make good Béchamel--and just about anyone can--you can add a lot of variety to your everyday cooking with very little extra effort and time. Here's a basic recipe:

Béchamel Sauce
2 Tbs. butter
2 Tbs. all-purpose flour
1 cup milk
salt and pepper to taste

In a small sauce pan, melt butter over low heat. Add flour and whisk until smooth, being sure to get all the flour out of the corners of the pan. Cook until a light tan color, whisking constantly—about 3 to 5 minutes. Gradually add the milk and continue to whisk over medium high heat until mixture is thickened and coats the back of a spoon, about 4 minutes. Add salt and pepper to taste.


See? Nothing to it! This is the first sauce I learned to make, following the instructions found in The Fannie Farmer Cookbook, proving my mom's maxim that if you can read, you can cook. If you research béchamel sauce, you'll find lots of variations on technique and sometimes some additional steps. I don't know what the classic French version is, but this one is within everyone's reach and not too fussy.

So what can you do with this simple white sauce? By itself it's the traditional sauce for the layers in lasagna, and I also use it as the sauce on a breakfast pizza (more on that in another post, I promise!). Add Gruyère or parmesan and you've got Mornay sauce for an upscale mac and cheese. Stir in prepared mustard, cheddar and stout and you can serve Welsh rarebit. A Béchamel with minced onions, white wine, sage and rosemary can accompany pork chops. Or you can make an awesome crab meat pizza.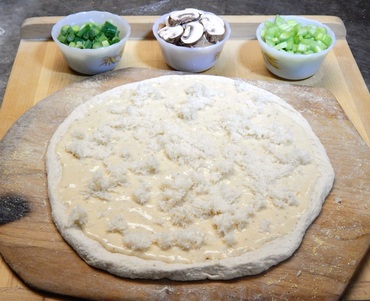 I started with 14 ouces of basic pizza dough rolled out to 12". Okay, I guess I should admit it wasn't that basic. I added some stone ground wheat flour and cornmeal from Hodgson Mill, and used cold water when I mixed it at 2:00 in the afternoon, so that it got a long, slow rise until I was ready to use it at 8:00 p.m. I made Béchamel sauce, or more accurately, I directed my buddy Matt, who had never made a roux-based sauce in his life---he nailed it. I supervised as he whisked in a tablespoon of vegetable soup base (the paste variety) and a teaspoon or two of a spice blend I made up---you can use Old Bay. What we got tasted like a very fresh base for clam chowder. We spread the sauce on the pizza crust and then added 6 oz. of crabmeat---use the lump variety if you can afford it, and don't hesitate to add popcorn shrimp, scallops or other seafood.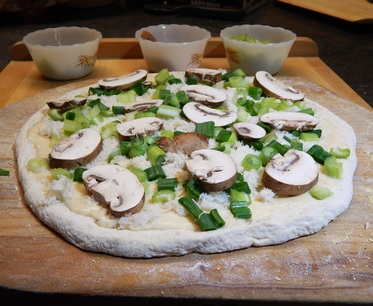 Next, chopped green onion, chopped celery for some crunch, and thick slices of baby portabello mushrooms.
Regular onions would have worked, too, or shallots. The celery pairs perfectly with the sauce, so I wouldn't swap that out, but I suspect artichoke wouldn't be out of place here, nor crumbled bacon. If you're not sure how a particular topping will pair with this dish, dip it in the sauce and have a taste.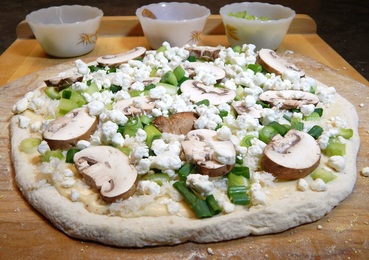 Last layer: goat cheese (shown here) and then a light sprinkle of shredded mozzarella. I used a fairly mild goat cheese so as not to overwhelm the delicay of the crab. Fresh mozz would have worked as well---so creamy when it melts---and I'd bet manchego would have worked, too. Baked at 650° F. for exactly five minutes, the resulting pie had a crisp crust with a slight char on the edges, as you see above.

Give Béchamel sauce a try for a seafood pizza, and then start experiementing on variations with other dishes. You'll be opening up a whole world of flavors, and when you realize how simple and economical this versatile sauce is, you'll never buy a packaged sauce again.