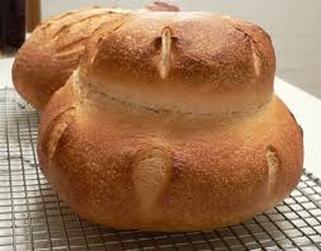 The bread to the left is called a "cottage loaf" and was not baked by me. I got this photo from
someone else's website
. The cottage loaf shape can be used for any bread, wheat or white. The shape originated in Britain during the Roman occupation, when ovens were rather tall and shaped like beehives. To stack one loaf on top of another made maximum use of oven space, a necessity when the ovens were communal and had to accommodate all the bakers in the village. I have included the recipe for this in my new cookbook
The Breadhead Bible Father Dom's Favorite Recipes
, which should be coming out in the spring. I needed a picture, so I set out to bake a nice looking loaf to use for the photo accompanying the recipe.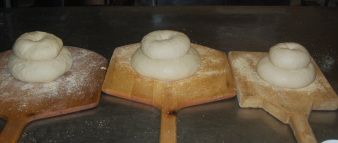 So here are my lovely loaves all lined up. You can see how I've pushed two fingers through the middle of each stack, as specified by the directions. I sprayed them with a little cooking spray to keep them from drying out and covered them with a light cloth so they could rise the second time, which they did enthusiastically. On two of them, I took a pair of scissors and snipped around the perimeter of the top loaf, to create a kind of crown effect. With confidence and anticipation, I put them in the oven at 375 degrees . . .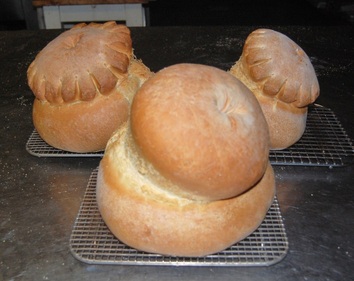 . . . and this is what emerged from the oven 45 minutes later. Mutant toadstools. Bread that grows in a swamp. Not exactly the kind of hero loaves I was hoping for. In one way, this is not surprising--I seem to remember having similar problems when I made them for an episode of
Breaking Bread
. What WAS surprising was the response I got when I posted them on my
Facebook Fan Page
(and these are unedited):
I like the whimsy.

I think they look awesome. Esp the ones with friar tuck hair lol
Or is it more 3 stooges-esque....lol

I like how they look, Father. Plus I bet they still taste great

I am totally digging their free form shape. Not all bread can be "super models" if it still tastes great then it is all good.

what a hoot!

I'd eat them!

I like the way they look. I think it was meant to be! Looks charming....and I bet a delight to eat.

They are so cute. They look like little characters from a Disney movie. Love them.

I think think they are really cool---kind of Alice in Wonderland!

I thought differentiation was a good thing.

They look artistic and tasty.

Out of a dozen or more I only had one that ever came out straight! looks like you stuck them together with more than just jamming a wooden spoon handle through the center.
Separate them into their individual loaves after baking and no one will ever know!

Reminds me of a Willy Wonka creation. Pour some chocolate on top and give them a funny name. Magical! (This one from my sister Eileen, God bless her!)

I think they're cute!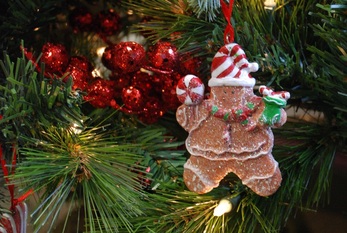 In short, it's obvious I need to lighten up on the "Bread-Monk-must-be-perfect" attitude and just enjoy the process as much as product. Not a bad thing to learn just before Christmas, when we put tremendous amounts of pressure on ourselves and our families to have the "perfect Christmas." The food matters, but not as much as the fun, and far less than the reason we celebrate in the first place.