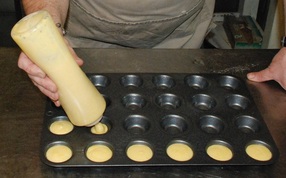 Wednesday June 19 I'll be at St. Joseph Parish in Freeburg Illinois for a bread demo (check out the events page for more info). I'm not sure what I'll be demonstrating yet, but I know that they are serving hors d'oeuvres, including "breads and spreads." When I have friends over for summer iced tea, I often serve one or two kinds of breads accompanied by herbal butters, one sweet and one savory. My default bread is cornbread, usually mini corn muffins. As you can see from the photo, I mix the batter and then pour it into a large squeeze bottle with a wider spout, and use that to dispense the batter evenly and cleanly into the little compartments.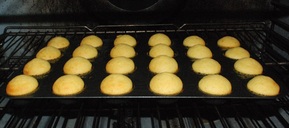 The resulting muffins are all the same size and perfectly shaped, and there's less mess on the muffin tin or the counter to clean up. Cornmeal muffins tend to dry out quickly, so make them the day you're going to serve them.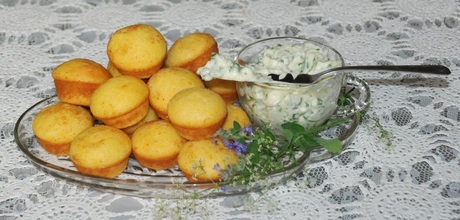 For serving I make use of those vintage "hostess sets": small glass trays with a matching punch cup. The breads go on the tray and the spreads in the punch cup, and I get out some pretty silver butter knives.
Any cornmeal muffin recipe will do, and you could use white or wheat yeast breads, too. There are thousands of herb butter recipes out there, as well (they're also called "compound butters"), but here are four of my favorites:

1 stick of softened butter + 2 Tbs. minced fresh chives + 1 tsp. minced fresh sage (this one can be bruahed on chicken as it comes off the grill, too).

1 stick of softened butter + one garlic clove, mashed and minced + 2 or 3 Tbs. Parmesan

1 stick of softened butter + 1 tsp. ground coriander + 1/4 cup of honey

1 stick of softened butter + 1 tsp. ground cinnamon + 1/4 cup maple syrup

Don't forget to try cream cheese as a base for herbs as well:

8 oz. softened cream cheese + 2 T. minced onion + 1 Tbs. dried parsley + 1/2 tsp. dried basil

8 0z. softened cream cheese + 2 Tbs. mayonnaise + 1/2 tsp. dried thyme + 1 finely minced shallot + 1/4 tsp. white pepper

Try combinations of whatever herbs are in your garden---you may discover a family favorite!