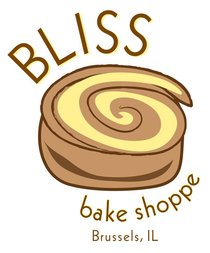 On October 28 I had a bread demo in Brussels, IL for St. Mary's Church. The church building burned last year and they are raising funds to keep both church and school going. The demo went just fine and they served delicious soups along with breads made from my recipes---their honey oatmeal bread was especially good. But before we even started setting up for the demo my assistant Kevin and I went to check out a tiny bakery we saw on our way into town.
Bliss Bakery is owned and run by Ean and Jen Bevel, and although they don't have an extensive selection every day, their cinnamon rolls are every bit as good as mine (I could hav eaten four of them). Their homemade bread bowls are filled with yummy soups like Broccoli Cheddar and Chicken and Dumplings, and they serve salads, sliders and pizzas as well. They are closed for the winter right now, and just had a baby six months ago, so they are looking to sell the business. There's a small but functional kitchen (great ovens) and a very pretty patio out back, so the place would make a nice cafe, coffee shop, bakery, pizza joint, etc. Check out their website
here
for more info.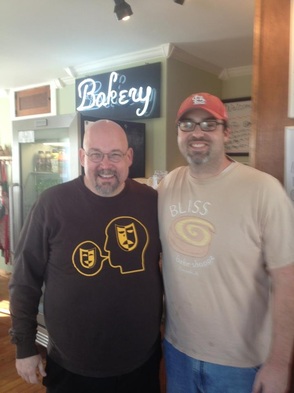 I have a rule about travel and food. You can stop wherever you need to when you're on the freeway, any drive-through will do. But once you reach your destination, you can't eat anywhere that you can get the exact same food at a franchise restaurant in your home town. I've met a lot of interesting people and had some memorable meals that way. Oh, occasionally I've stopped at a diner and saw that the soup of the day was "mini-strone" and they had "fresh" fish (the quotes made me nervous) and almost turned back. But I've also had some outstanding patty melts, exquisite onion rings and decadent pie following this method. But mostly I'm happy it gives me a chance to meet people like Ean and Jen, who decided to follow their bliss and open a bakery. I've become friends with Kevin at Pane Rustica in Tampa, and with Paul at That's a Nice'a Pizza in St. Louis, and when Jason bought the pizza place I became friends with him, too. An afternoon at Pike's Market in Seattle will give you a chance to sample a half-a-dozen bakeries at once, including some amazing donuts. Pearl Bakery in Portland produces the best cibatta and pugliese I've ever had, and I only went there because a newspaper reporter made the suggestion.

So, as a general rule, forget the gift shops, mega truck stops, and chain restaurants that are turning the Midwest into Generica. Check out the mom and pops, the local favorites, the diner with eight pickups parked out in front at 6:30 a.m. Chances are, you'll be glad you did.