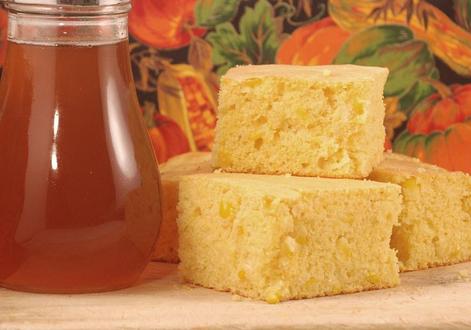 Earlier this week I made a batch of cornbread using a new recipe I found on Pinterest. The pinner claimed it was "The Best Cornbread"--moist and sweet, with a tender crumb. I'm usually a bit wary of such claims, because often what the baker has developed is a recipe for a cornmeal-flavored cake, with way too much butter and sugar. But this recipe made use of unsweetened applesauce, so I decided to give it a try. I'm glad I did. Although it had a texture that reminded me of yogurt cake and was a bit too sweet for my taste, it was definitely moist and flavorful. The recipe is
HERE
.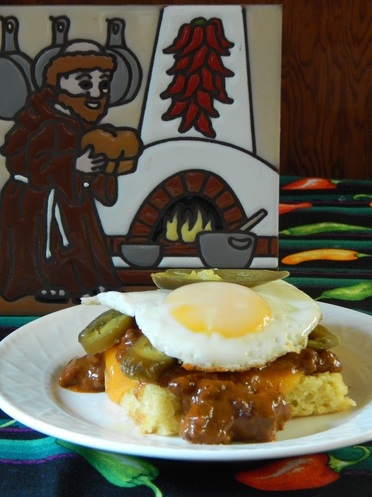 I don't know what inspired me to put my fried eggs on cornbread the next morning, because normally I'm a butter-and- honey kind of monk. But it was so good that I decided to take it even further and create the masterpiece picture here. I cut a large square of cornbread in half lengthwise and topped it with a slice of sharp cheddar. That went into the microwave for about 20 seconds, just enough to melt the cheese. Once it was on the plate, I added chili, jalapenos, and a fried egg. No salt, no pepper, no hot sauce--it had all the flavor it needed. I'm glad I didn't use the whole piece of cornbread, because that would have been far too bread-y. This was perfectly balanced, IMHO. The idea of chili first thing in the morning might seem odd at first, until you think about breakfast staples like biscuits and gravy, or eggs over grits and corned beef hash. You could do something similar with salsa, guacamole, or white chili, or make a variation on Eggs Benedict if you're awake enough to attempt hollandaise sauce at that hour.
I should note that in taking this picture I had the assistance of Courtney and Destiny, two of my students who usually get to school early and graciously volunteered to advise me on food styling. They were rewarded with the plate pictured above and a pair of forks.

God bless and happy baking!