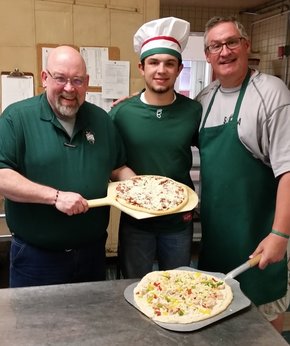 A couple of times a year, I make homemade pizza and take it to a student's table in the Academy cafeteria (or to use the monastic term, "refectory"). Today I was joined in the kitchen by my colleague Coach Jim Eustice, and we made three pizzas for his son's table, which is populated primarily by members of Jim's football and baseball teams. I've had most of them in class, so they have a pretty good idea of what I'm capable of in the kitchen.
Jim's son Bryant asked for a seafood pizza, some kind of chicken pizza with a white sauce, and a meat lovers' pizza. After a few questions and a little prompting, we settled on a bechamel sauce flavored with some vegetable stock concentrate, crabmeat, celery, onion and goat cheese. The meat lovers' was straightforward: my homemade sauce and sausage, pepperoni, ham, genoa salami and bacon, topped with the customary mozz (although snuck in a little pecorino Romano under the meats).
The chicken pizza was a bit more challenging. Usually I make a broccoli chicken pizza with black olives and fresh mozz, but the "chicken" part was the only ingredient Bryant was interested in. Besides, the last few times I made it, the chicken breast seemed a little dry, although the veloute sauce continues to be the best part of the whole business.
Veloute
sauce is one of the
"mother sauces"
of French cuisine, and can be made with veal, chicken or fish stock. The
roux
is cooked darker than for bechamel, and I like it with a little half and half added to the stock, along with seasoned sea salt and fresh thyme. You make it thicker for pizza sauce than for pasta or vegetables. You can find all about the different sauces I make for pizzas in my book
Thursday Night Pizza
, available on our abbey's retail website
www.monksmarket.com
.
To counteract the potential dryness of the chicken, I used thighs instead of breast meat, and sauteed it just barely to a
safe temperature
, knowing that it would cook again in the oven on the pizza. Brightly colored red, green and yellow peppers added to the flavor and the appearance of the pizza, and inspired by what I found in the fridge, I topped the whole business with smoked mozzarella. Smoked gouda would have been a good choice, too, but the results were as delicious as they were photogenic.