Most people only know about babka because of the episode on Seinfeld in which Jerry and Elaine miss out on the last chocolate babka and have to settle for cinnamon version, which Elaine thinks of as "the lesser babka." Both are excellent, and I'm partial to the cinnamon variety, but the chocolate kind is what I made for my Craftsy class, so here's a description and recipe.

The word babka means "grandmother" in Polish, and may have been applied to the pastry because it was often made in a tall, fluted cylindrical pan that produced a cake shaped like a pleated skirt. Some people make it in a loaf pan or as a wreath on a sheet tray. When I make babka, I like to use a Bundt pan so the resulting loaf has a decorative shape and some height.

Challah featured prominently in my Craftsy Class---the last three lessons, actually---with "Half-Pipe Chocolate Babka" being the crown of my instruction. For my class I used a Holiday Challah dough recipe that makes a HUGE batch and has to be kneaded by hand unless you have a larger stand mixture that can manage the equivalent of three loaves of bread. Here's the recipe for a simpler dough you can make in an ordinary KitchenAid.

3¼ to 3½ cups of all-purpose flour, divided
¼ cup of granulated sugar
1½ teaspoons of salt
1 pkg. instant yeast
¾ cup warm water
2 eggs, room temp
1 egg yolk (save egg white for the glaze)
¼ cup neutrally flavored oil (canola or a very light olive oil),

Place 3 cups of flour, sugar, salt and yeast into a medium size bowl and whisk them together. Place water, eggs and egg yolk into the bowl of a stand mixer. Blend with a paddle attachment, then add flour mixture a small scoop at a time, with the mixer on medium speed. Once all the dry ingredients are incorporated thoroughly, beat in oil at a slightly higher speed into smooth.

Switch to a dough hook attachment. The remaining flour is added gradually until you have a mass of dough that pulls away from the side of the bowl. Knead with hook for 5 minutes. The dough should be smooth, elastic and a little bit sticky. Remove dough hook and cover bowl with a clean dry towel. Allow to rise for 60 to 90 minutes---a richer dough usually means a slower rise.

Lightly grease a Bundt cake pan. Roll dough out to 20" x 24". Spread filling (recipe below) evenly over the surface, leaving the top wide edge 1" uncovered. Brush top edge lightly with water. Roll up from bottom wide edge and pinch to seal. Place the roll on a cutting board seam side up and cut down the middle with a large sharp knife or large pizza cutter. (Photo below.) Turn halves with the filling side facing upwards. Starting from the middle, twist the two side together towards one end. Repeat with other side. Carefully lift the twist into the prepared pan and arrange so it's even. Cover and let rise for 30 to 45 minutes or until nearly doubled. Bake in a preheated 350 F. oven for 40 to 45 minutes. Interior temp of the bread should 190 F. on an instant read thermometer.

Filling
¾ cup semisweet chocolate chips
⅓ cup unsalted butter
¼ cup powdered sugar
⅓ cup cocoa powder

In a small saucepan, melt butter over low heat and whisk in chocolate chips. Sift powdered sugar and cocoa powder together into the pan and whisk until smooth. Remove from heat.
This has to be served on the nicest china cake plate you have, preferably one from your grandma. Seasonally decorated plates are nice, too. Some people add a little chocolate drizzle to dress it up or a light dusting of powdered sugar. But once you cut the first wedge, the interior is so beautiful you won't care about the loaf's surface, and the tender crumb and sweet filling don't need any additional sugar.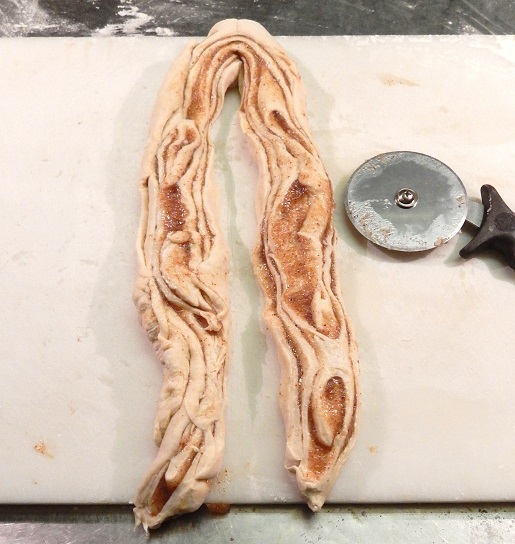 The filing in this oicture is almond, and you're supposed to cut all the way through at the top, but you get this idea.
I make two other versions of babka, one with a sugar and spice filling, and the other as the pinnacle of sweet bread decadence: Nutella salted caramel babka. For the spice variety, I spread melted butter over the surface of the dough, and then sprinkle on a half-cup mixture of equal parts white and brown sugar with a teaspoon of Chinese five spice (you could use just cinnamon, or pumpkin pie spice, too). In my opinion, no need for streusel, just butter and hot coffee.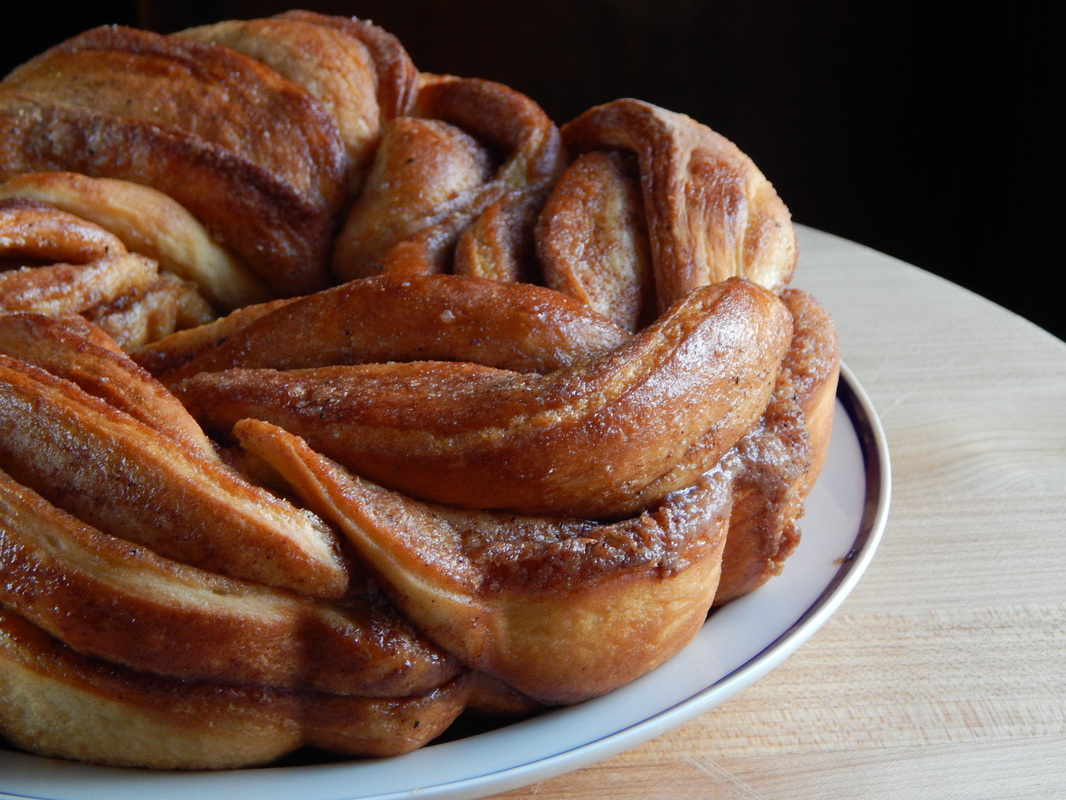 For the richer version, I heat a 13 oz. jar of Nutella in the microwave for about 10 seconds, and then spread it over the rolled out dough using an offset spatula or plastic bench knife. Then I sprinkle on 5 or 6 oz. of Kraft Premium Caramel Bits (about half an 11-oz. package) and then 1/4 tsp. of kosher salt. Roll it up and continue as directed--the result is below.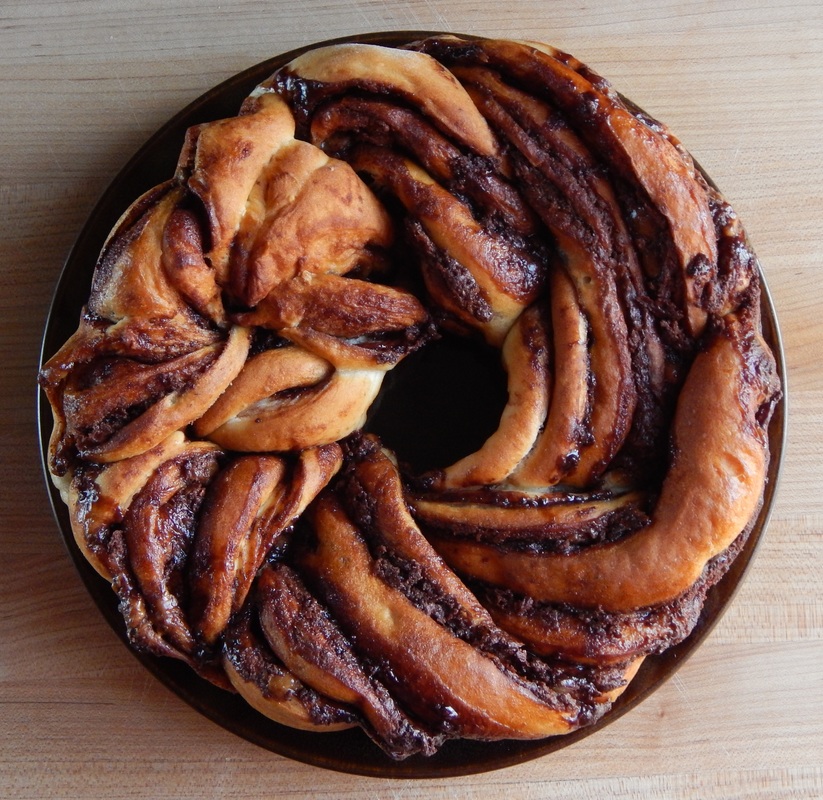 Forgive me, dieters, if I have led you into temptation.