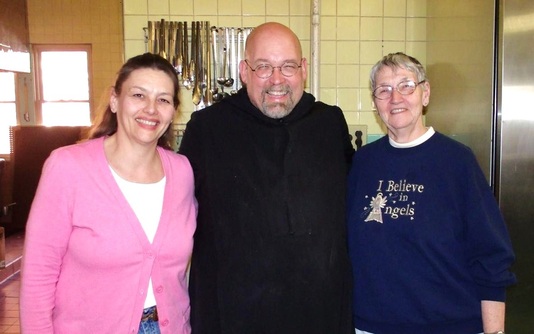 This is Joan and her mom, a pair of Bread-heads who contacted me earlier this week in the hope of arranging a brief visit to the abbey. I met them at a bread demo in St. Peter MO a couple of years ago, and Joan said that a visit to the abbey was on her Bucket List. Since I was free for the afternoon I was happy to receive them. We toured the abbey church and some of the public areas of the monastery proper, saw a little bit of the grounds, and ended up in the monastery refectory eating
Magic Bread
with homemade apple butter, before they left with a blessing and the rest of the loaf.
My only point in posting this brief log is to let Breadheads know that they can indeed visit the monastery, stay as overnight guests and even make a weekend or week-long retreat here. We find it difficult to properly host people who just "drop by" unannounced, in part because the guest rooms may be full and/or the community at work or prayer. But you can always
contact me
through this website to arrange a visit. If I have enough free time, you can even get a bread lesson!
On an entirely unrelated note, here is a picture of a sandwich-size cutting board with a matching butter spreader I made out of vintage oak salvaged from our old choir chapel. I also posted this picture on my Facebook Page, and from the response I gather that I will need to make a lot more of these and make them available for sale online!