Day #7

A House in Order

Last day at the cabin—tonight I return to the abbey and tomorrow I leave for a monastic worship conference. Not much baking today. Mostly cleaning up the kitchen area, running the vacuum, packing up. Abbot Philip and Br. Robert will be using the cabin after me, so I don't want to leave a mess. But just to keep my hand in I mixed up a batch of honey multi-grain bread to leave in the freezer—a little treat for my confreres.

Today is the 4th of July, a day on which I always take time to write letters of support for military personnel. These aren't people I know: I get the names through anysoldier.com. I do this throughout the year, and try to send a donation to the Paralyzed Veterans Association every now and then. I can't say I agree with every aspect of U.S. foreign policy and practice, but I can say that I respect those who serve our country so generously, and at such a cost.

I realized earlier in the week that we had a brand new American flag still in the package at the cabin, but no way to fly it. There was a bracket for a flagpole on the front deck, but no metal or wooden pole to be found. But I went out into the shed and found an old section of a bamboo fishing pole that happened to be the right height and fit the bracket perfectly. I attached with flag with some bread ties (it just seemed right) and it went up yesterday morning, just in time for the holiday weekend. I've been saying the pledge of allegiance every morning, like we do at school. In the classroom it's routine, but out here all by myself, with the flag aglow in the early morning light, it always makes me tear up.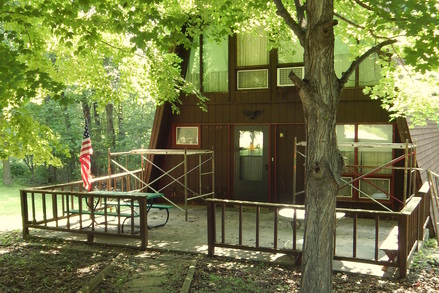 You'll see from the photo that our curb appeal is a little lacking because we have scaffolding up for repairs and painting next week. Originally I wasn't going to post the picture for that reason, but it occurred to me that it was aptly symbolic in its own way. Our nation is always being rebuilt, always under construction, constantly in need of repairs and a fresh coat of paint. "A house divided cannot stand," declared Abraham Lincoln, but neither can a house neglected; complacency is as dangerous as division.

Today when we reflect on the many blessings of living in a land of abundance and freedom, let's all ask ourselves: what am I doing to build up the house of our nation? What is the legacy I am leaving to future generations? What am I doing to support those who protect those freedoms, whether they serve in a branch of government or a branch of the military? How can we ensure that all citizens enjoy a fuller share in that abundance, a greater share in those freedoms which we treasure?

If I were a better writer (or a better politician) I might offer more specific suggestions or a call to action. For me, I'm writing a few letters to soldiers overseas, and baking a little bread to share. Later today I'll visit Br. Anthony in the nursing home, and figure out how to help an older couple of my acquaintance who need some help with groceries. Little things, and I hope I can do greater things tomorrow. I pray we will all do greater things tomorrow.

God bless and happy baking!