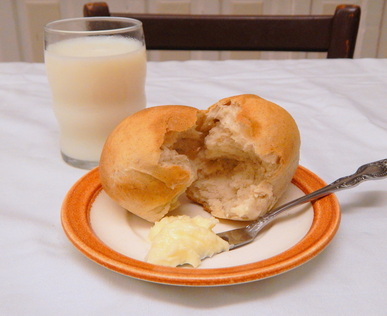 The last year that Br. Anthony was in the abbey, before his injuries and other complications sent him to the nursing home, he suffered from insomnia. If I worked late in the kitchen, I would often find him shuffling into the coffee klatch in his slippers and a bathrobe, where he would sit and have some warm milk or a bowl of cereal. He was obviously suffering but he rarely complained, or if he did it was brief and utterly without self-pity. Engineer that he was, he simply stated the problem and set about solving it with the tools at hand, and if I were around, that would be warm homemade bread with butter. I started making small sample loaves whenever I baked, because he never wanted to me to cut into a big loaf just for him.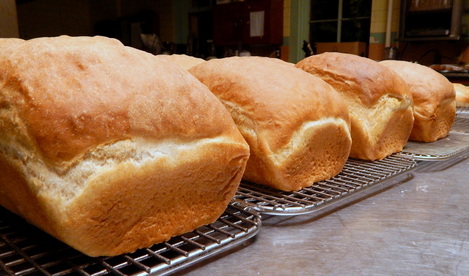 Tonight I mixed up some whole wheat potato bread to serve at the fellowship meal following the funeral, and one of his teenage grand-daughters hung out in the kitchen with me as I worked. She's a theatre geek like me, and if she hadn't been in her best outfit I'm sure she would have rolled up her sleeves and pitched in. But we talked about shows she'd been in and I told stories about her grandpa as I added ingredients to the mid-size mixer for a batch big enough for eight or nine loaves. Br. Anthony's daughter Marie has determined that since her father was a Brother, then his brother monks must be her "monkles." I shared this with Br. Anthony's grand-daughter and we laughed. "Does that mean I can call you 'Monkle Dom'?" she asked before she left. I'd say that's just about the nicest thing anybody has called me this week!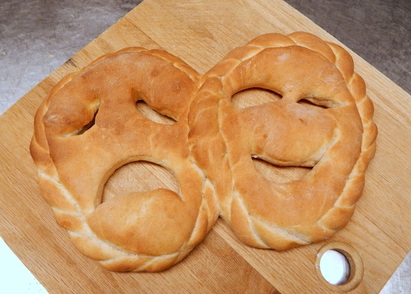 Once the dough was mixed her uncle took her back to the hotel to join the rest of the family and I let the dough rise. Then I weighed out eight loaves (about 20 oz. each) and put them in a ganged pan. With the leftover dough I decided to do a little bread sculpture for my new theatre buddy. I found a larger crescent moon cookie cutter for the mouths but couldn't find a smaller one for the eyes, so I had to bend a small biscuit cutter into shape. I think I'll start look for a small moon cutter for the next time I try this, but I'm pretty satisfied and I'm sure she'll like it.

I took the cut-out pieces of dough from my sculpture and rolled them into a little round loaf to bake with the rest of the batch. It's pictured above, and I enjoyed it with butter and a glass a milk to honor Br. Anthony's memory. The kitchen was quiet, and the aroma of fresh bread reminded me of my mom, and of the many happy hours I've spent baking for my family and friends. But most of all, it reminded me of the confrere for whom I grieve, and I look forward to the day when we can once again break bread together at the Eternal Wedding Feast.