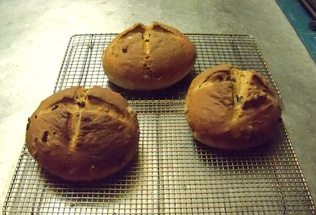 This fragrant loaf is traditionally served on Halloween with a gold ring or other charm baked into it that was supposed to bring luck to the person who received it. I haven't made it in a couple of years, but I really should serve it all year long, since it makes the kitchen smell marvelous and it makes a great breakfast bread.
There is some disagreement as to the meaning of the name "barm brack." It could mean "bread made from barm" (a yeasty by-product of beer making) or it may be a corruption of the Anglo-Irish bairigen breac, meaning "speckled cake." You can also bake this bread in two 8½ x 4½ x 2½-inch loaf pans, but you'll need to bake them for 40 to 45 minutes. I like the rounded form better, since it looks more rustic. Here's the recipe:
Barm Brack
2 cups strong black tea, divided and cooled to lukewarm
2 packages active dry yeast
1½ cup raisins
½ cup brown sugar
2 eggs, lightly beaten
¼ cup (1/2 stick) butter, melted
1½ teaspoons salt
1 to 2 teaspoons of mixed spice (see note)
6¼ to 6¾ cups all purpose flour
In a small bowl, dissolve yeast and a pinch of brown sugar in ¼ cup of tea; allow to develop. In a medium size bowl, dissolve brown sugar in the remaining 1¾ cups of tea; add raisins and allow to soak for ten minutes. Add yeast mixture to tea. Stir in eggs, butter, salt and spices. Stir in six cups of flour, one cup at a time, mixing after each addition until flour is completely incorporated.
Turn dough out onto a lightly floured board and knead for 6 to 8 minutes, adding small amounts of flour as needed to keep dough manageable. The finished dough should be moderately soft and only slightly sticky. Lightly oil the surface of the dough and place it back into rinsed bowl and cover with a clean, dry towel. Allow to rise in a warm place free from drafts until doubled, 60 to 75 minutes.
Lightly grease three 8-inch pie pans. Punch dough down and knead briefly to expel larger air bubbles. Divide dough into three portions and shape each into a flattened round about 8 inches across. Place loaves in pie plates. Cover loaves with a clean dry cloth and allow to rise until nearly doubled, about 30 minutes. Bake in a preheated 375 degree oven for 20 to 25 minutes, or until browned on top and loaves sound hollow when tapped on the bottom. Cool on racks.
Note---You can use any number of spices for this traditional Irish bread, including nutmeg, ginger, cinnamon, cloves, allspice, anise, and mace. My favorite: 1 teaspoon of cinnamon, ¼ teaspoon each of nutmeg and mace, with a pinch of ground anise seed.