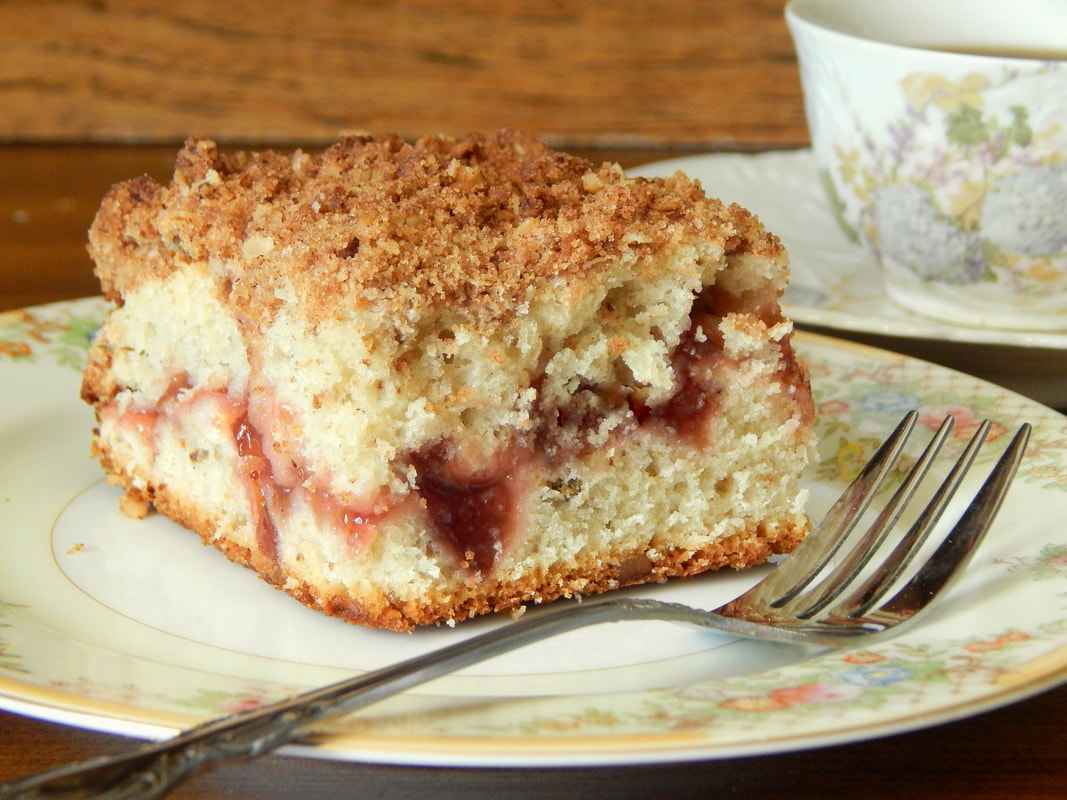 Do you have guests this Thanksgiving weekend, or other holiday visitors to cook for later in the year? Here's a recipe for a healthier alternative to commercial baking mixes. I've posted it before and done a number of live demos on the subject this fall, but I thought it would be timely to offer it again.
Most baking mixes use shortening and have a number of preservatives and therefore are more "shelf-stable" as they say in the food biz. My version has no preservatives and uses butter (far fewer trans fats, but it must be refrigerated), which with the addition of whole grains makes it a healthier alternative. You can use it one-to-one in any recipe that calls for baking mix. Several recipes are provided to keep your guests happy all weekend long!
Multigrain Baking MixIngredients:
3 cups all-purpose flour
1½ cups whole wheat flour
¾ cup quick cooking oatmeal
½ cup yellow cornmeal
¼ cup milled flaxseed
2 tablespoons baking powder
1 tablespoon salt
1 cup (2 sticks) cold unsalted butter, cut into slices
(Use only 1 stick of butter for a reduced fat version)
Place dry ingredients into food processor and process until thoroughly mixed. Add butter and pulse until well blended. Store in an airtight container in the refrigerator up to 6 weeks (depending upon how fresh your butter is). If you use salted butter, reduce the salt in the recipe by ½ teaspoon.
Baked Cinnamon Donuts with Chai Glaze
Donuts
1¾ cup of baking mix
1/3 cup granulated sugar
½ tsp. ground cinnamon
¾ cup 2% milk
1 egg
¼ cup vegetable oil
Chai glaze (see directions)
Preheat oven to 375° F. and lightly grease a donut pan. In a medium-size bowl, combine flour, sugar, salt, and cinnamon and whisk thoroughly to combine. In a separate bowl, whisk together milk, egg and oil. Pour milk mixture into dry ingredients and stir until smooth. Divide batter into pan. Bake in preheated oven for 15 to 20 minutes or until slightly firm to the touch and an inserted toothpick comes out clean. Cool in pans for five minutes before removing from pan to a wire rack; frost while warm.
Chai Frosting
Make one cup of sweetened chai tea. In a small sauce pan, bring to a boil, then reduce heat to a low simmer. Reduce to about ¼ cup of thick syrup. Immediately add 1 cup of powder sugar and a pinch of salt, and whisk until smooth. While mixture is still warm, use to lightly glaze donuts.
Welsh Cakes
2 cups baking mix
1/3 cup granulated sugar
½ teaspoon cinnamon
¼ teaspoon freshly-ground nutmeg
½ cup currants or raisins
1 large egg
1/4 cup cold milk
Butter for the pan
Combine baking mix, sugar and spices in a medium-size bowl and whisk to blend. Stir in the currants. In a separate small bowl, beat the egg with the milk; stir into mixture to make a soft dough. Turn the dough out onto a lightly floured board and knead briefly, 8 to 10 strokes. Lightly flour the board, then roll the dough to a 1/4-inch thickness. Cut into rounds with a fluted cookie cutter (2½" or 3"size). Heat a cast iron skillet over medium-low heat (or use an electric skillet set to 350° F). Brush the surface of the pan lightly with butter and cook the cakes for about 3 minutes per side, or until they are golden brown. (I usually test one first to make sure I have the temperature correct--they should come out soft in the middle but not at all doughy). Remove to a wire rack and sprinkle with granulated sugar. Serve warm.
Versatile Coffeecake
Cinnamon Streusel
1/3 cup baking mix
1/3 cup packed brown sugar
1/2 teaspoon ground cinnamon
2 tablespoons firm butter or margarine
Cake
2 cups baking mix
2/3 cup 2% milk
2 tablespoons sugar
1 egg
Heat oven to 375°F. Coat a 9-inch round cake pan with cooking spray. In small bowl, rub together streusel ingredients until crumbly and set aside. In another small bowl or pitcher, combine milk, sugar and egg and beat well. Pour into medium bowl with bakijg mix and stir until just blended. Spread in pan. Sprinkle with streusel. Bake 18 to 22 minutes or until golden brown.
Variations:
make a double batch of the streusel, and use half for a filling between layers of the batter
Fold 1 cup of blueberries or raspberries into the batter before placing it in the pan.
Use cake and pastry filling to make a marbled cake
Use allspice or Chinese five spice in place of the cinnamon, and add a half cup each of chopped dates and toasted pecan pieces to the batter.
Here are the proportions from the classic Bisquick recipes:
N.B.: You may need slightly more milk (or slightly less mix) with a multigrain baking blend.
Pancakes
2 cups baking mix
1 cup milk
2 eggs
N.B.: I think these are better with 1¼ cup on milk and only one egg.
Waffles
2 cups baking mix
1 1/3 cups milk
1 egg
2 tablespoons vegetable oil
N.B.: When I make these waffles, I use two eggs, separated, and beat the whites to stiff peak stage and fold them into the batter for extra light waffles.
Blueberry Muffins
2 cups baking mix
1⁄3 cup sugar
2⁄3 cup milk
2 tablespoons vegetable oil
1 egg
3⁄4 cup frozen blueberries
Heat oven to 400 degrees and coat muffin pan with cooking spray. Combine sugar, milk, oil and egg in a small bowl and beat well. Place baking mix in a medium bowl and add liquid, stir until just moistened. Gently fold in the blueberries. Divide batter evenly in 9 muffin cups.
Bake 13 to 18 minutes or until golden brown.