We had our family Christmas here at the abbey today, as we have for the past 25 years or so. It's usually the Sunday after Christmas, but since Christmas itself fell on a Sunday, we couldn't wait until New Year's! In recent years we've had a different theme for our celebration: pizza parties, Christmas Brunch, County Fair foods (celebrating Christmas with corn dogs, funnel cakes and lemonade shake-ups!). This year my sisters chose "Merry Little Christmas" so all our food was miniaturized. The buffet included, among other things, Little Smokies, little sweet and sour meatballs, mini-quiches, bite-sized ravs with homemade sauce, mini-eclairs (made by my talented cousin Gina), and tiny and exquisitely decorated Bundt cakes made by my endlessly creative sister Angela---I only wish I had taken a picture, because they were totally blog-worthy.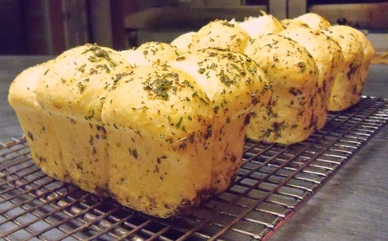 My contribution was Pull-Apart Garlic Bread, a family favorite I've been making for decades. The orginal recipe came from Rhodes frozen dough, and Mom won first prize at the Heart of Illinois Fair several years with her version. I've tweaked it slightly (mostly by adding more garlic!) and you should feel free to do the same. Download the recipe
here
.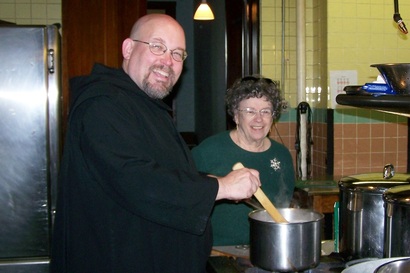 My other contribution was Italian wedding soup, another family favorite. I had never heard of it until a salesman showed up on the set of
Breaking Bread
at KETC in season three and told me about this traditional soup made with tiny beef and veal meatballs in chicken stock, with vegetables and a few chiffonade-cut greens (escorale, endive, spinach or cabbage) to garnish. The name of the soup is a bit of a mistranslation: the original Italian name is
minestra maritata
("married soup"), which is a reference to the fact that green vegetables and meat go well together rather than to any wedding tradition. Small pasta like
dital
ini, orzo, or stars are usually added, although I use
acini de pepe
pasta, which look like little beads or BB's and can be found in some larger grocery stores (I've gotten them at Hyvee and at Walmart, but they don't always stock them) or Italian grocery stores. Unfortunately, I can't offer a recipe, since I make it grandmother-style--you know, a little of this, a handful of that--in large batches for my families, both biological and monastic. But there are plenty of versions online:
Giada De Laurentiis' recipe
is one of the most tradition ones I've seen.