One of my Stage Rats, Ernie, came out tonight to bake with me. His grandmother has terminal cancer and doesn't have much of an appetite, and he and his mother thought that homemade bread might be just the thing. So I mixed up a triple batch of Victorian Milk bread and we got to work.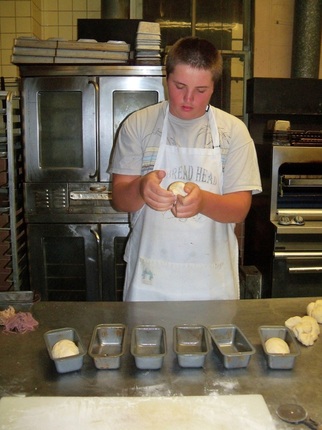 We decided that mini-loaves would be the way to go, since they could fit easily into a freezer and be taken out as needed. A half pound of dough is the perfect amount for these small pans, so I gave Ernie a brief lesson in forming a loaf with a smooth top and he weighed and shaped six in no time.
Here's Ernie removing his creations from the oven. The photo doesn't really do justice to how beautifully they turned out---poor lighting in the kitchen---and of course the aroma was magnificent. I also appreciate that Ernie always does this dishes for me--his father reports that it's not that way at home! 'Twas ever thus with teens.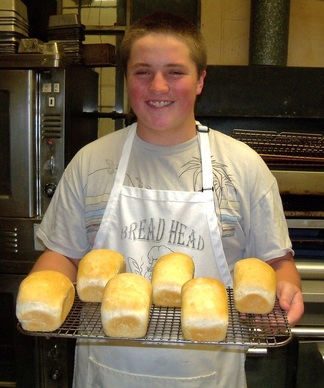 He's got every reason to be proud, and I'm sure his grandmother will be, too. Please remember her in your prayers---her name is Nancy. We're praying the Lord keeps her healthy enough to get to see her grandson Tim (2011 Academy grad) come home from army training at Christmas.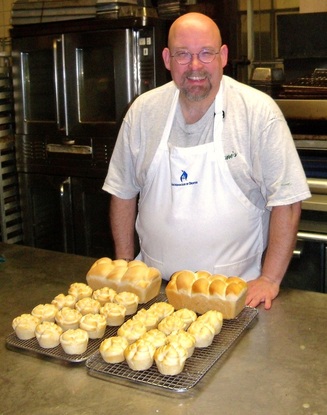 I did some rose rolls and a couple of braid-tops with the rest of the dough---requested by friends for family Thanksgiving. I'll be baking again Wednesday night for the monastic community's Thanksgiving feast.
The rolls on the left turned out just about perfect--all the same size and well shaped. I usually have one or two that look a little cockeyed, so it's always a nice surprise when all twelve look good. The Victorian Milk bread recipe isn't quite as good for rolls as the potato roll dough, but it's a close second.