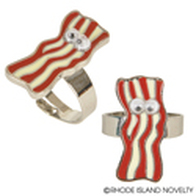 The bacon craze is on the downside of its run, it seems to me, or it is moving from trendy to mainstream and will soon be considered passé---or more likely, that has already happened and I'm just not on top of things. I figured it had jumped the shark when I saw bacon-themed jewelry in the Rhode Island Novelty catalog. So maybe those of us who have been bacon fans for decades can go back to enjoying its salty, smoky goodness without feeling like we're on a crowded hipster bandwagon. One of my all time favorite bacon recipes is for Austrian povitica ("poh-VEE-teetz-ah" or "poh-vuh--TEETZ-ah" depending upon which Slovenian you ask).

My recipe for povitica has been in my family for four generations. My great-grandmother, Frances Zunic Sardick, brought it to this country from Austria. You most often see the Croatian or Slovenian versions of this bread (usually called potica) which use ground walnuts, cream, honey, and a much sweeter dough rolled into very thin layers. They are very popular at Christmas in our area, but I find them a bit dull compared to this savory beauty, which bakes up as a large, dramatic loaf.

Povitica is a traditional holiday bread, and in my family a special treat for Easter, at the end of Lenten fasts and meatless meals. When my mother was a little girl, my grandmother used to make it on Good Friday to serve Saturday night. How she could stand to fry bacon and bake bread on the most important day of fast and abstinence in the church calendar, I can't imagine! She certainly made of sterner stuff than Mom and Grandpa Frankie, who would leave the house and visit every church in a 25 mile radius to escape the tempting aromas.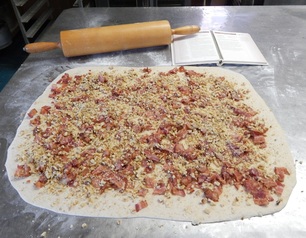 You can use any bread dough, white or wheat, for povitica. Most people prefer a richer dough with eggs and butter and at least a little sugar. Most recently I used a potato bread dough with a cup of whole wheat flour thrown in and no added sugar. It took longer to rise (90 minutes for the first rise, 50 for the seond), but with better flavor and texture. It may also take a while to roll the dough out to 24" x 20", but if you let the dough relax for a few minutes between rollings, it will cooperate better.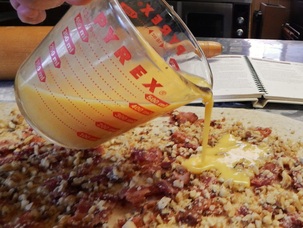 The povitica filling is made of chopped cooked bacon, chopped walnuts, a little sugar and six beaten eggs. The beaten aggs are poured gently and evenly over the other filling ingredients, and then the whole business rolled up like a jelly roll. Use the dining room table like my mom did if you lack counter space in the kitchen.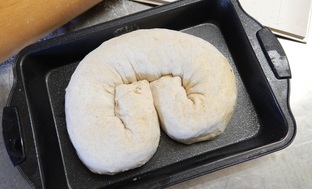 Here it is all coiled up and ready for a second rising. Any 9" x 13" pan will do, but I prefer one with higher sides. A lasagna pan works great, but so does an ordinary cake pan like the one pictured here.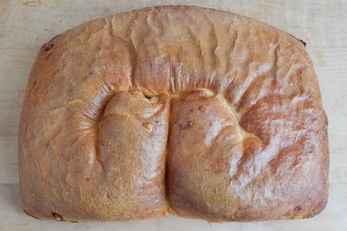 I like to brush on an egg wash for the second half of the baking process to achieve this deep, rich color, but that's not really necessary. The rippling on the crust is normal after the povitica cools, so don't be distressed by it. It takes about three hours to cool completely, so don't wrap it in plastic untl then.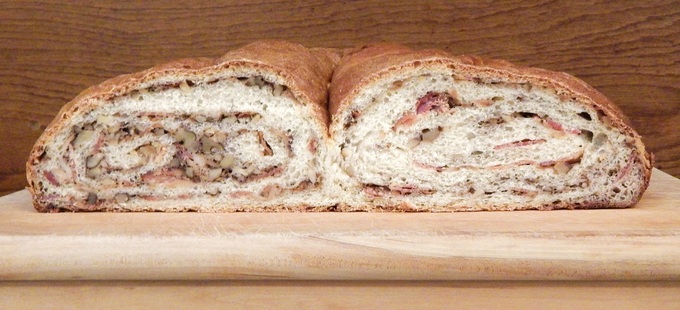 It's a challenge to cut across such a large loaf, but I have an extra long bread knife. You will probably want to cut the loaf down the middle first and then make smaller slices. Povitica is delicious warm or cold, plain or buttered. I often enjoy it warm with a light buttering and a thin drizzle of honey---salt, sweet, crunchy, creamy, chewy, all at once!
AUSTRIAN POVITICA

1 batch of bread dough, white or wheat
1 ½ to 2 lbs. bacon
1 lb. chopped walnuts
2 Tbs. sugar
6 eggs

Follow instructions for any simple bread recipe up to the first rising. While it is rising, chop uncooked bacon into small pieces, and fry until cooked, but not crisp. Drain and set aside. After dough has doubled, punch down dough and knead for 3 minutes to work out the air bubbles. Roll out onto a large lightly floured counter or cloth to 24" by 20", about ¼" thick. Spread bacon bits evenly over dough, then sprinkle the sugar on top, followed by the walnuts. Beat the eggs thoroughly and pour over filling and dough.

Roll up the dough lengthwise jellyroll style. Pull slightly on the dough to get a tight roll, but be careful not to tear holes in the dough. Seal the edges, then coil into an oval loaf with the two edges tucked into the center (see photo). Place in a lightly greased 9" x 13" x 2½" loaf pan. Cover with a clean cloth and let rise in a warm place until doubled in bulk, about 50 minutes.

Preheat oven to 450°. If any of the egg mixture has leaked out during rising, brush this over the top of the loaf for a glaze. (In any case, get as much of the egg out of the bottom of the pan as possible, or it will cause the bottom crust to burn.) Bake for 10 minutes at 450°, then reduce heat to 350° and bake for about 40 minutes, or until nicely browned. If the bread begins to brown too much on top, cover the loaf lightly with aluminum foil until the last 10 minutes of baking. If your oven doesn't bake evenly, turn the pan around at least once during the baking process to ensure the bread is being baked thoroughly on all sides.


A printer-friendly version can be found
HERE
.