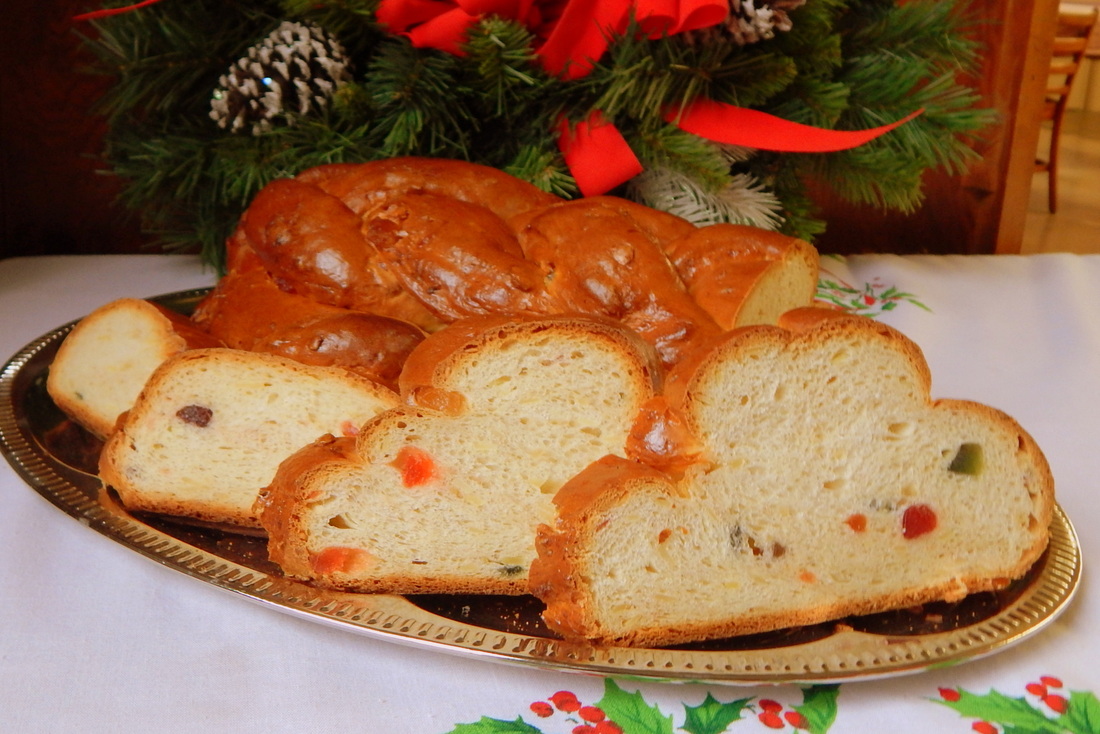 Hoska
½ cup warm water (100 to 110 F.)
2 pkg. active dry yeast
1½ cups lukewarm milk
½ cup (1 stick) butter
¾ cup sugar
2 tsp. salt
2 eggs + 1 egg white (reserve yolk)
1 tsp. coriander
½ tsp. mace or nutmeg
1 Tbs. grated lemon zest
1 ½ cups dried fruit, candied fruit, candied peel, etc.
½ cup chopped blanched almonds
6 to 6 1/2 cups all-purpose flour

In a large mixing bowl, dissolve yeast in warm water with a pinch of sugar. Allow to develop until foamy, about 15 minutes. Combine milk, butter, sugar and salt, and heat until sugar is dissolved and butter is melted; cool to lukewarm. Add milk mixture, mace, coriander, and lemon zest to yeast and stir. Lightly beat 2 eggs with one egg white, reserving yolk for glaze. Stir in egg mixture until well blended. Add five cups of flour, one cup at a time, mixing each time until flour is thoroughly incorporated. Let dough rest for 10 minutes before turning out onto a lightly floured board. Knead the dough as you add the remaining flour about 2 tablespoons at a time, until you get a soft dough that is smooth and elastic—about five minutes. Don't over-knead, because it will get kneaded again when you add the fruit and nuts.. Wash and dry the mixing bowl, lightly oil the surface of the dough, and place it back in the bowl. Cover with a dry dishtowel and let rise in a warm place free from drafts for 90 minutes to two hours---a rich dough like this often takes longer to rise than the usual hour.

Punch dough down and flatten into a rough oval about ½" thick. Place raisins and nuts in the center and fold up the sides. Knead until raisins and nuts are evenly distributed. Let dough rest 10 minutes. Lightly grease a large (12" x 18") jelly roll pan. Remove one third of dough and set aside. Divide remaining dough into three pieces and roll each piece into a rope about 18" long. Braid the three ropes together and place on the pan. Divide the remaining dough into three pieces. Roll three pieces into ropes about 14" long and braid them together. Brush the top of the larger braid lightly with water and place the smaller braid on top. This makes a large, dramatic loaf, so if you want something more modest, divide the dough in half to begin, then follow the directions for each half--you'll have one to enjoy and one to share! Cover and let rise for 45 to 60 minutes, or until nearly doubled.

Preheat oven to 350 degrees F. Beat egg yolk with ¼ cup of water; brush the entire surface of the loaf with the egg wash, using a soft pastry brush. Bake in the middle third of the oven for 45 to 55 minutes. If the surface of the dough starts to brown too quickly, cover it loosely with foil for the last 15 minutes of baking. The loaf is fully baked when the interior temperature of the loaf is 195 degrees F---use an instant-read thermometer. Leave on the pan for 15 minutes, then transfer to a wire rack to cool. Makes one large loaf, 15 to 20 servings.

Notes
---Hoska is also called vanocka or stricka in various places in the Czech Republic, and the ingredients are somewhat variable: sometimes this traditional Christmas braid contains candied citron or other dried fruits, more eggs, less sugar, different spices, etc. Truly expert bakers may make more complex braids out of multiple strands, but one thing is constant: this loaf is as delicious in taste as it is dramatic in appearance.
---Be careful not to over knead the dough before the first rising, since it gets kneaded again. The raisins and nuts are added later to keep them from being pulverized from over-handling.