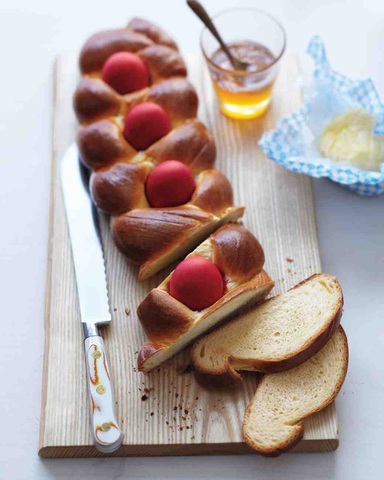 Full disclosure here: the photo to the left is NOT mine, nor did I make the bread. This is Martha Stewart's version of Greek
tsourecki,
a rich braided loaf traditionally made for Easter. The deep red eggs are meant to represent the blood of Christ, and many Greeks consider them an essential part of the bread. But my enthusiasm for this tradition has been dampened ever since I watched a fellow monk
cut a slice THROUGH one of the eggs
because he wanted a smaller portion, leaving bits of shell all over the table and in the remainder of the loaf. Besides, we get more than enough hard-boiled eggs during Easter week (more on that in my next post).
You might find it unusual that as a monk I'm not a staunch defender of culinary tradition, and in the case of
tsourecki
I take any number of liberties. The traditional flavorings for this Greek treat are
mastic (a spice made from resin which is dried and then ground) and aromatic mahlab (made from ground seeds of a cherry native to Greece). If you want a really traditional version of this recipe, you can find it HERE.
My version of this sweet, rich bread uses orange and anise as flavorings. I omit the red eggs, but there are plenty in dough---five, to be exact, and one more used as a glaze. It also has a whole stick of butter and 3/4 cup of sugar, so it's a very rich dough. The dough is a bit sticky even after kneading, but resist the temptation to add more flour; things will get better after the first rise.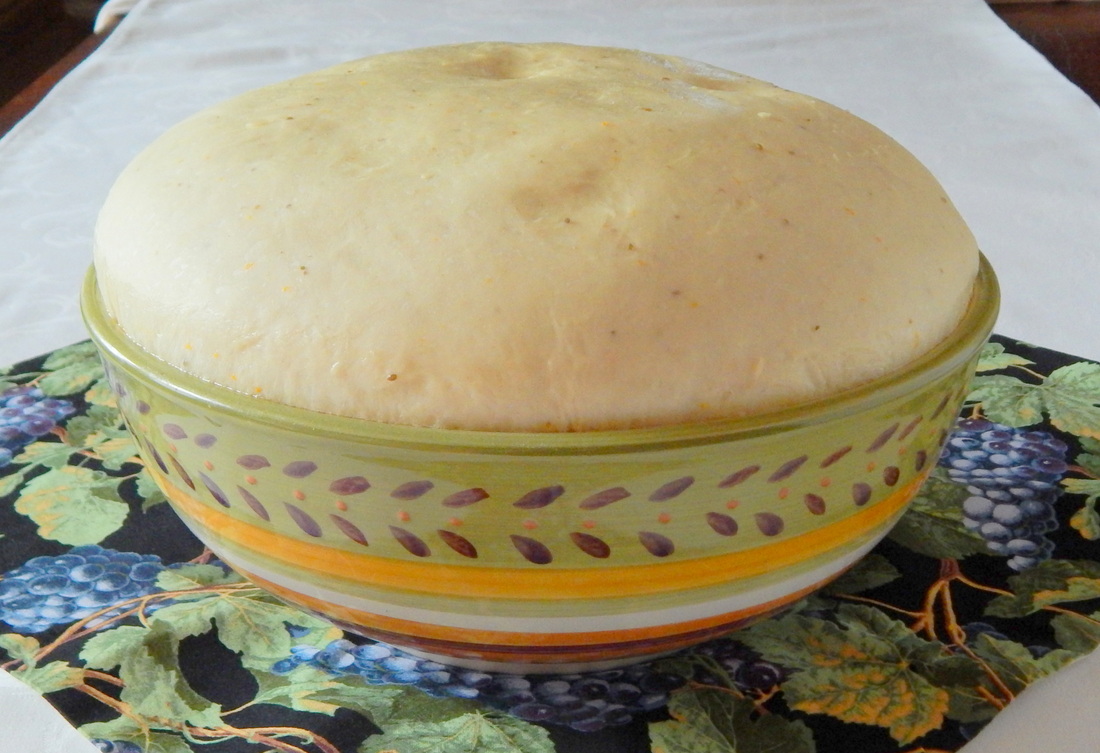 Large braided loaves are the traditional form for
tsourecki
, although I've seen some lovely versions in the form of a braided ring or crown (click
HERE
to see one). My recipe makes two large braided loaves, which may seem like a lot, but you probably have plenty of family coming over for Easter, and this bread makes
outstanding
French toast. You can always double wrap one for the freezer to serve on Pentecost.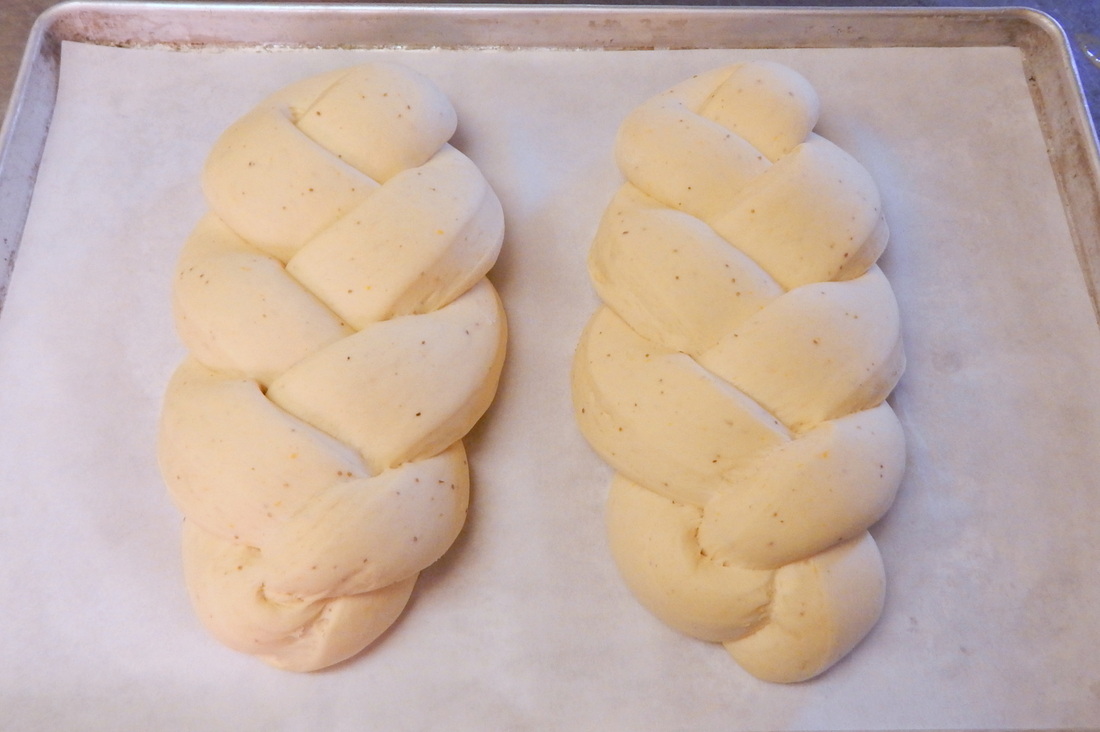 The instructions will tell you to roll ropes of dough for braiding, but a slab braid like these beauties here will work just as well and be a lot easier. Not sure what a slab braid is? Click
HERE
for a tutorial video from my "Breadhead Minute" series sponsored by the
Home Baking Association
.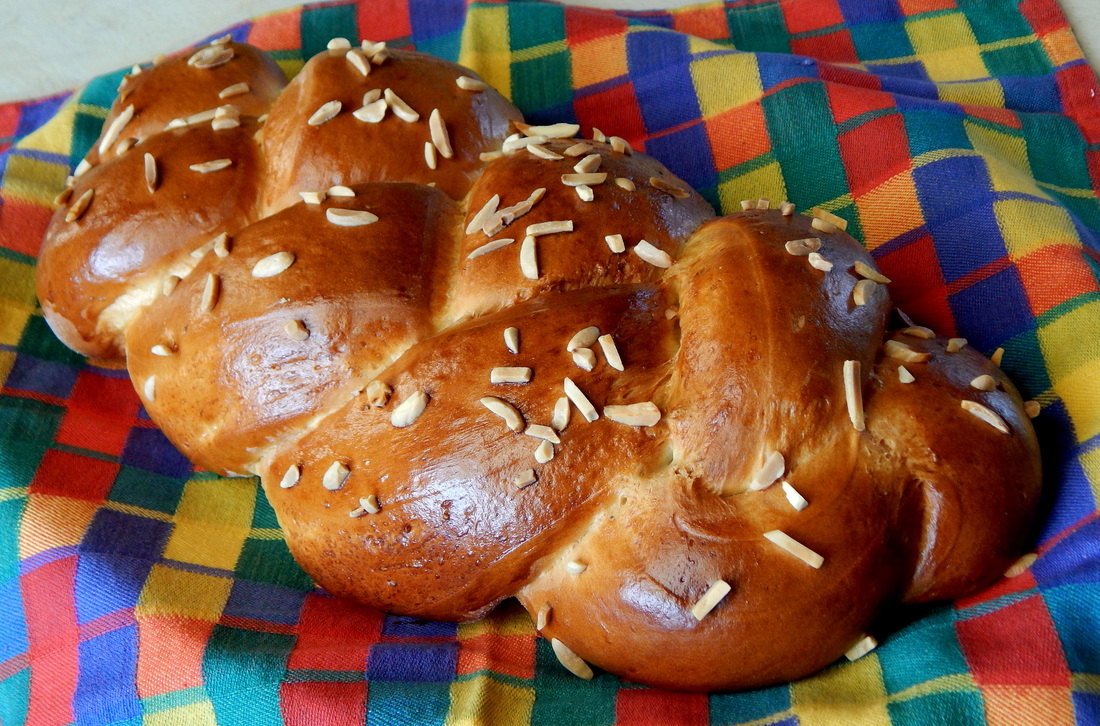 And here is the glorious result of all that effort. I'll be serving this lovely loaf at our reception after the Easter vigil, probably with whipped honey butter. The second loaf will be on the monastery table Easter Sunday morning.