Using different varieties of apples makes for a more flavorful apple butter.
We get bushels of apples from the abbey orchard, many of them too small to eat out of hand and a few with bruises or bird marks. Applesauce is always a possibility, but lately I've been making big batches of apple butter. I know 8 to 10 pounds of apples seem like a lot, but once it's all cooked down, you end up with about 6 pints. That leaves you with enough apple butter to get through the winter and maybe a half-pint or two to share. Of course with my large monastic family, 6 pints won't last past Thanksgiving---we've been through 4 quarts already! So here's my monk-tested, large-batch recipe.

8 to 10 lbs of apples, washed
1½ to 2 cups apple cider vinegar
3 cups water
4 cups of granulated sugar
4 teaspoons cinnamon
1 teaspoon allspice
¼ tsp. cloves (optional)
½ tsp salt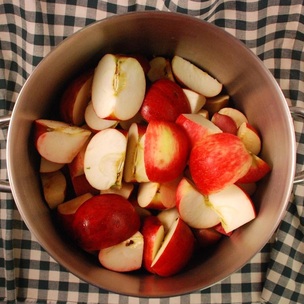 This is a 12-quart stockpot but a 10-quart is plenty large.


Cut the apples into quarters--no need to core or peel them, but remove any parts that are bruised or damaged by birds or insects. If you use a mix of different apples you'll get better flavor, but I've made plenty of apple butter with only one or two varieties of apple and it turned out just fine. It's homemade---of course it will be good!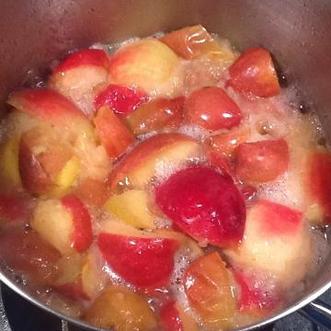 Red peels will give the apple butter a lovely color.


Put apples into a 10 quart stock pot with a thick bottom. Add 1½ cups of vinegar and all the water; cover, and cook at medium heat until apples are soft, about 30 minutes. Periodically stir the mixture so the apples on the top end up at the bottom. Remove from heat and allow to cool for about 10 minutes.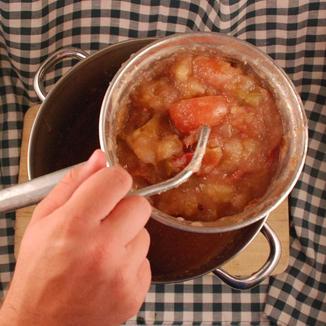 A old-fashioned chinois and pestle will work, too.
Ladle the apple mixture into a food mill and process in small batches. Throw out seeds and peels as you process each batch. Return apple purée to pot. Add 3 cups sugar and stir until it is completely dissolved. You can use brown sugar but the amounts may have to be adjusted, so don't add too much at a time. Add salt, cinnamon, and allspice and whisk until smooth. Taste the purée; adjust vinegar, sugar and/or spices to taste, remembering that as the purée thickens the flavors become more intense. If the flavor seems blah, try a little more apple cider vinegar before you add more sugar or spices, especially if your apples were overripe.


Return pot to stove top and cook, uncovered, over medium low heat, stirring constantly so the purée doesn't scorch. It helps to scrape the bottom of the pot while you stir--a flat wooden spatula with a long handle is the best tool for this purpose. Cook until the purée is thick and smooth.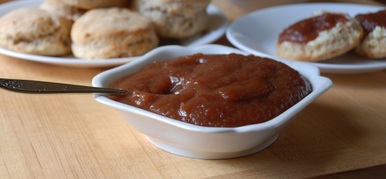 To test for thickness, place a small dollop of the apple butter in the middle of a chilled white plate and let it sit for 10 minutes. If a ring of liquid forms around the dollop of apple butter, it needs to be cooked longer. If it isn't runny with a clear liquid, it's been cooked long enough. Cool pot of apple butter quickly in an ice bath to room temperature and spoon into freezer safe containers. You may also process while hot, using traditional canning methods.