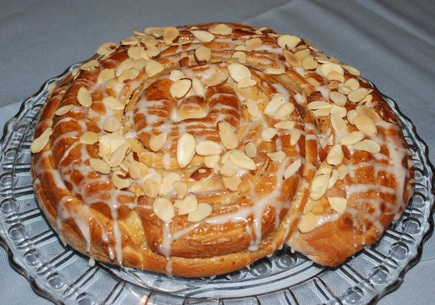 As you may have read in my previous post, one of my goals this year is to expand my repertoire of yeasted coffee cakes. Fortunately, between my cookbook collection and Pinterest, I shouldn't have any trouble coming up with new forms for shaping basic sweet dough into beautiful breakfast treats. This gorgeous swirl was inspired by a recipe I found on Pinterest this week. I'm going to give you the link to the blog
HERE
for two reasons: first of all, give credit where credit is due (the original had an orange/fig filling, and came from
Cooking Light);
secondly, her blog has lovely photos of the shaping process, much prettier than mine. There seems to be a photographic advantage to baking during the day in a modern suburban kitchen instead of at night in a commercial kitchen with a stainless steel work table! However, my finished product, as you can see, looks just fine on the abbey breakfast table.
I used Solo Almond Filling, which has a wonderfully intense flavor and the consistency of some kind of adhesive. I know that sounds like a disadvantage, but in fact I consider it an asset. It's harder to spread it evenly on a soft dough, but it glues the layers of the dough together and makes them very easy to handle during the shaping process. The dough was the same I use for Best Ever Crescent Rolls (the recipe is
HERE
) but you could also use Basic Sweet Dough or any dough for dinner rolls. I used half the batch; the other half was used for a lattice braid with cherry filling---but that's a recipe for another day!