2013 Bread of the Year: A Batch of Biscuits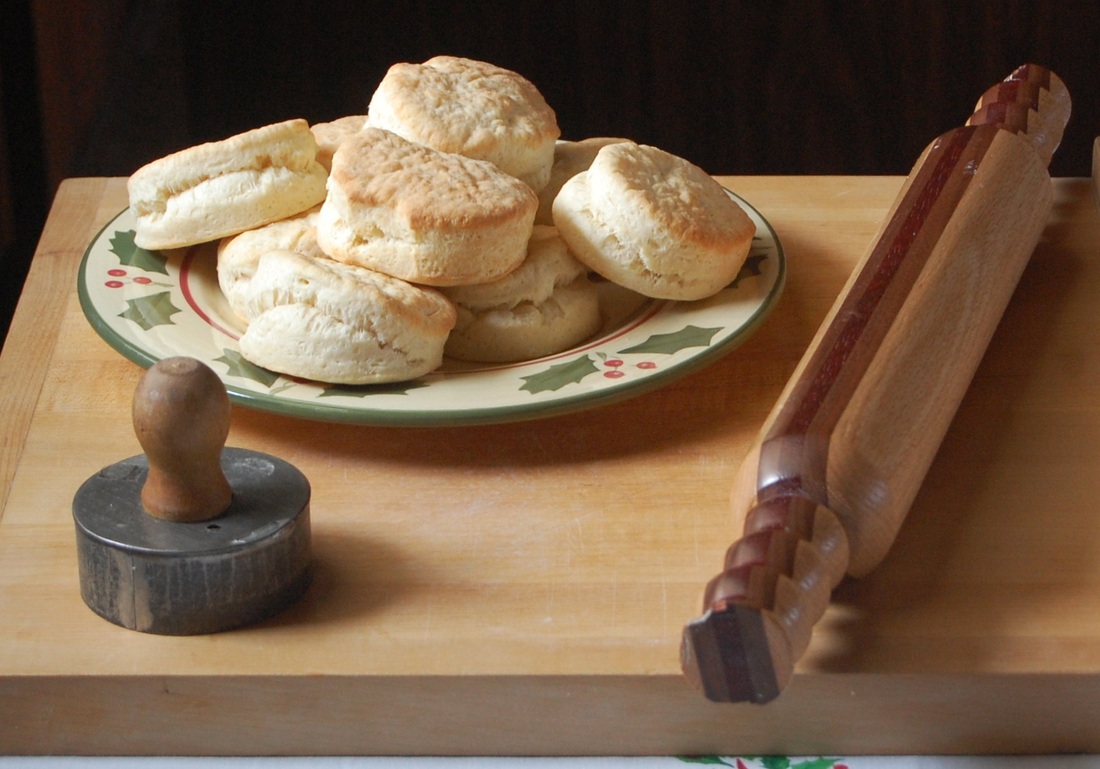 Tonight the kitchen is serving some kind of beef-and-gravy thing and so I offered to make biscuits. I finally learned to make biscuits reliably this year ( as well as a decent pie crust) so I'm always happy to hone my skills. I made three batches in about 45 minutes, including dishes washed and the counters wiped down. Not bad for an amateur.
I recently gave away my biscuit cutter at a demonstration, and when I told my mom about it, she offered to give me one from her collection. If you look closely, you can see that it used to have a metal handle, but the cutter was used so much that the handle broke off, so someone added a turned wooden handle. It's a full three inches across, so it makes substantial biscuits to satisfy the heartier appetites in the monastery. It's one of the treasures in my baking tool box.
And yes, I do have a tool
box,
not just a utensil drawer. It's a large, construction grade black DeWalt tool box with a removable top tray and a reinforced carrying handle. Debo's Ace Hardware, $20 bucks on sale---one of my former students works there and called me to let me know when they were discounted. I carry it to fancy food shows where all the chefs wear white double-breasted jackets and toques and carry leather knife cases for which they paid $400. When they see the DeWalt logo, the looks I get from them range from incredulous to envious.
The gorgeous rolling pin you see pictured was a gift from my good friend Jay. The outer wood is maple, the next layer is cherry, and the center is rosewood. If you look carefully, you'll see that the end of the handle has taken some damage. The very first time I used it, I was giving a student a baking lesson, and he set it down to close to the edge of the counter and it rolled off and got chipped
when it hit the floor. You'll notice there's a chip off the other side of that same handle, which is from the
second
time that
same
student dropped the pin. He was mortified, but I've made him wash a LOT dishes in the course of his culinary education, so I didn't make a big deal about it.
As I was taking this picture, I realized that it was in many ways symbolic of this past year, and implies a few resolutions for 2014 as well. First off, it it's a MUCH better picture than the ones I was taking a year ago. That's because I attended the Food Media Forum in August and took a couple of workshops on food photography. And I found out about the Forum because I finally gave in to my publisher and got myself a
Twitter
account, which also led me to start a
Facebook Fan Page
. So 2013 has been a year of entering the world of Food Media, making some wonderful contacts along the way, and being challenged to start producing more content in 2014 (like short videos for my
YouTube channel
and MAYBE going on Google+ like my friend Chef Dennis has been urging me to do.
The tools in the photo remind me to stay connected to the family and friends who have been so supportive of my baking adventures and encourage me by giving me beautiful and meaningful utensils, the latest baking books, and recipes from every possible media. My mother is my biggest fan, of course: about 75% of the books on my Breadhead shelf were gifts from her! I am deeply grateful for the generous support of my friends and the enthusiasm of my Breadheads who keep in contact by mail, Facebook and Twitter. I especially enjoy seeing photos and hearing stories about your baking experiences, and I hope you'll make a resolution to send me a photo for the
Breadhead Gallery
sometime in 2014.
The chip off the rolling pin is symbolic of my continued commitment to teaching, whether that's in the classroom or the kitchen, the parish hall or the convention hall. I want my high school students to marvel at the mysteries of yeast and to explore the delights of homemade pizza. I want to see a woman at a workshop to get the instruction she needs to finally learn to knead properly, and to see her delight as the dough is transformed beneath her hands. I want people to laugh at monk stories while I'm shaping a braided loaf, and I want one of my "
Breadhead Minutes
" to go viral.
A couple things in the photo are not so evident at first but are still significant. First, I bought that plate at at Goodwilll for 50 cents. I resolve that in 2014 I will continue to scour thrift shops, yard sales, flea markets and pawn shops for treasures to share with my community and to give away as door prizes at bread demos. This year I gave away antique bread knives, refurbished vintage rolling pins, classic copies of
The Joy of Cooking
(1964 is my favorite edition), stoneware mixing bowls, and even a
banneton
for which I paid a quarter
.
I suppose a monk shouldn't get excited about material things, but I do love a good bargain!
The other thing that isn't noticeable in the photo is that not all of the biscuits turned out as well as the ones you see here. Some were misshapen, and about half a batch inexplicable did not rise very much (I suspect a mixing problem). In the new year I will continue to hone my skills, expand my knowledge, and explore new areas of baking. I don't have to make a resolution about that---it's just my nature.
I hope you will also feel connected to family and friends in the new year, that you discover unexpected treasures and gain new knowledge and skills in whatever areas of life give you joy. Be assured of my prayers.