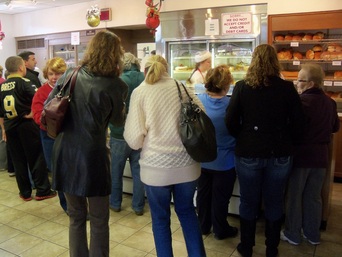 I took a quick jaunt down to STL this Friday and Saturday, to meet with Josh and Matt of Reedy Press to discuss the new beginner's book coming out this spring, and to do a book signing at Missouri History Museum. No, the picture to the left is not people lining up to see me, this is the crowd that I found when I walked in the door of Missouri Baking Company (2027 Edwards St. on the Hill, 314-773-6566, no website). The place was packed the whole time I was there, but they had plenty of counter help and the line moved quickly. So before long I was face to face with this: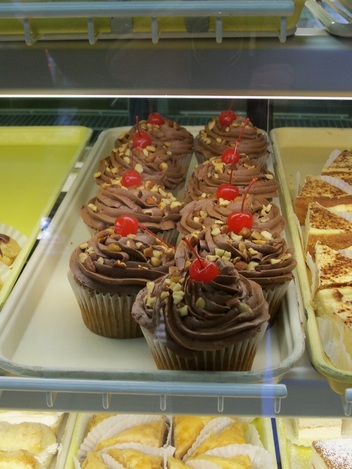 The recent cupcake craze has shown its influence on the bakery's selections, but their breads are excellent and they have an amazing array of Italian Christmas cookies (too many kids crowding the case to get a picture of the variety!). I like their biscotti, and my culinary buddy Kevin really enjoys their cookies called "crocanti" (sp.?). I'm a fan of their biscotti, and every time I go there I pick up a gooey butter cake for the monks.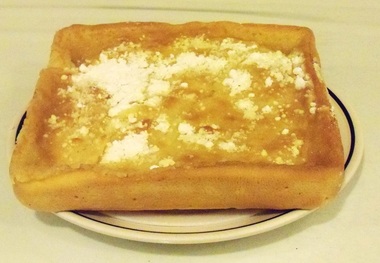 This cake is about 9" on a side and contains about 3,000 calories per serving. It's essential an underbaked cake with too much butter in the batter, and there has never been a most perfectly delicious failure in the history of pastry.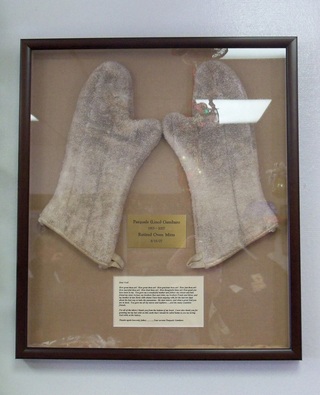 The bakery has been around for a few generations of the Gambaro Family. Uncle Lino, whose parents started the bakery and who worked there for 83 years until his death in 2007, was the inspiration for Abbot Pasqualino in Brother Jerome and the Angels in the Bakery. These are his oven mitts, lovingly enshrined on the wall behind the cookie counter.
If you have a chance to visit the bakery, don't pass it up, and bring cash because they don't take credit or debit.