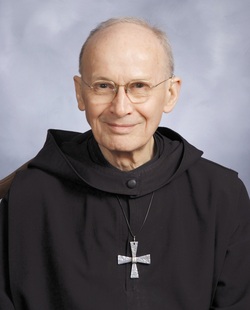 A few readers have been wondering why there hasn't been a blog post in awhile. Unfortunately, it's because we had a death in the community: our Abbot emeritus Claude Peifer. He was an internationally known scholar in scripture (he was on the editorial board of the New American Bible), monastic studies (co-editor of the 1980 translation of The Rule of Saint Benedict) and patristics (author of several articles for the Dictionary of the Middle Ages and the New Catholic Encyclopedia). Burying him was like watching a library burn to the ground.
You can read Fr. Claude's full obituary
HERE
, but I want to share something about the circumstances of his death. He had suffered from heart problems since his 40's (he was 87 when he died) and had a serious heart attack last June. It was a long, slow recovery, but he had returned to his previous activities in the monastic library and elsewhere. On the morning of May 1, he came to morning prayer and sat next to me, his usual place at choir, and waited for the signal for prayer to begin. Within a few seconds, he slumped over against my shoulder, breathing heavily. When I asked if he was all right he didn't respond, so Prior Michael went to call the ambulance and Br. Nathaniel went to get the oil for anointing . By then Abbot Philip had arrived at choir, and he knelt next to Fr. Claude. Fr. Claude groaned once, gave a deep sigh, and slumped in his chair. I could still see a thready pulse in his neck, so the abbot anointed him. By the time he reached the final prayer, the pulse had stopped.
As sudden and shocking an experience Fr. Claude's death was, we all agreed that it was also a blessed death. He died with his mind composed for prayer, strengthened by the sacraments, and surrounded by his beloved community---so may we all. It was a privilege to hold my brother's hand, to have him lean on my shoulder as he passed from life through death to Life. As sad as it was, that day was not like a Good Friday; it was an Easter Sunday, a resurrection experience, a sign of the reward of perseverance.
Fr. Claude was habitually abstemious, but one bread that he relished was Honey Mocha Bread--I saw him go back for seconds
and thirds
at lunch one day. So I'm sharing the recipe in his memory: click
HERE
.