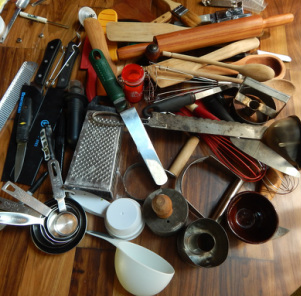 While I was at the cabin last week I decided it would be a good idea to re-organize and wash out my baker's toolbox. As you can see, I have a lot of utensils to carry around, and a DeWalt tool box seemed to be the best solution (Debo's Ace Hardware, Black Friday, $20). The top section lifts out, which is handy if I don't need my full kit for a "gig".

I tell people you don't need a lot of specialized tools for baking, which is true: a bowl, a big spoon, a pan, and an oven will do the job if you have a good eye for measurements. But once you get beyond basic white bread you find yourself needing a bit more. Cinnamon rolls require a rolling pin, making biscuits begs for a decent cutter and maybe a pastry blender, and the next thing you know you're shopping for a potato ricer, a nutmeg grater, and a microplane.

There are two sides to this issue of multiplying utensils. One is the pleasure of having just the right tool for the job at hand. I know I can use an ordinary rubber spatula to spread frosting, but an offset spatula that can be held level with the cake is so much easier to use and yields better results. I can make do with three knives—chef's knife, paring knife and bread knife with a wavy blade—and I don't need copper-bottomed saucepans in every possible size. Yet the array of baking pans I have acquired is staggering—and so is the variety of breads I can make in them.

The darker side of our urge to acquire better kitchen equipment is our obsession with possession, the most prevalent form of addiction in the age of consumerism. Food television compels us not only to keep up with the Joneses, but with Bobby Flay, Martha Stewart and the Next Food Network Star. Those show place kitchens (one of them "stadium" sized) can make us be a bit downcast about our tiny counter top, the meager storage, having "only" four burners and no built-in grill.

I'm just as susceptible as this as any dedicated foodie. I know there is a part of me that enjoys the hunt for bargains (not a bad thing in a monk) but another part of me just wants more STUFF (not a good thing for a monk!). Envy and fear of not having "enough" play a part here, too. But MTV had a tagline years ago: "Too much is never enough." HSN should see if they can obtain the rights to it.

I'm not making any accusations here—I don't know what's in your kitchen—but I do think it's good every now and again to empty out the drawers, the cabinets and the closets, and take stock not of our stuff but of ourselves. I looked at my pile of tools last week and thought, "What possible reason do I have for owning two pastry blenders, three pizza cutters, and six wooden spoons I don't even use?"

During my travels this summer I've spent a lot of time at flea markets and resale shops. Most of what I acquire is for door prizes at my demos. But when I get home I think I'll take a day to go through a few drawers and cabinets and decide what I really need and what might make a nice gift for a budding Breadhead.

God bless and happy baking!