About a case of whole milk expired on the 3rd, which means the lunch room can't sell it, but as many a mom on a budget will tell you, it's still OK to drink for a few days after the date. So I decided to make a big batch of Victorian Milk Bread. I know that sounds like a really fancy title that would have some archaic recipe to go with it. But in reality, if you take any basic white dough recipe, use milk instead of water and melted butter instead of oil, you've pretty well got it. Eric Treuille and Ursula Ferrigno in their excellent book
Ultimate Bread
show the bread made in a pan, but the dough is shaped into an S before it goes in the pan. See a picture of someone else's S-shaped bread
here.
Not sure what the big deal is---it doesn't seem to enhance the appearance that much.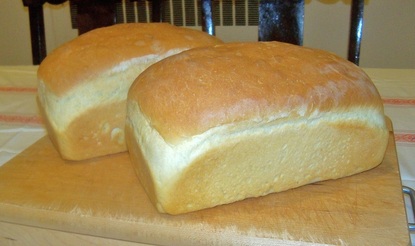 Here's my version: just a classic large loaf. These were baked in 9 x 5 inch pans, using 2 pounds of dough.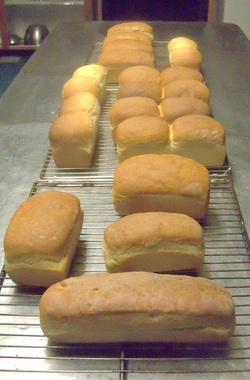 Here's the whole batch (almost--two loaves are already on the abbey breakfast table!) The milk in the recipe makes for a more tender crumb and softer crust, and also aids in achieving the golden brown appearance. I used honey instead of sugar for the sweetener, about one and a half tablespoons per loaf. The long loaf in front was baked in a stoneware pan. The double loaves on the right were baked in the ganged pans pictured below.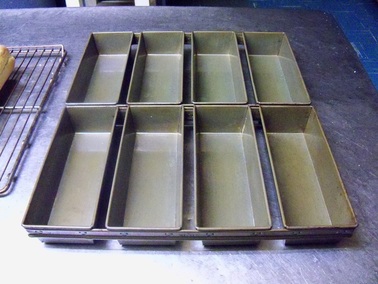 These are heavy duty commercial pans ganged four across. A whole loaf is a bit unwieldy, so that's why I bake two in each section, 20 ounces each. If you bake larger batches these pans are really handy, but before you go shopping, measure the width of your oven first to make sure they'll fit!