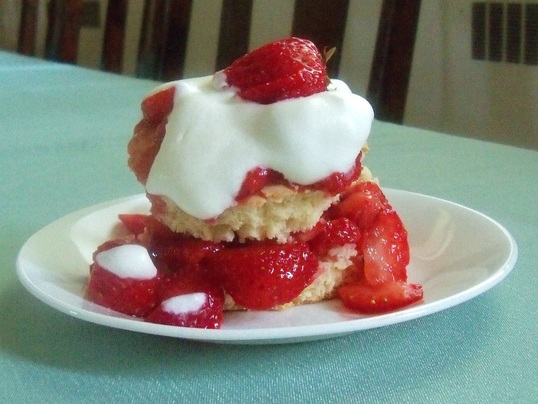 ​Strawberry Shortcake

(OK, it's actually
just for the shortcake--
​you can figure out the rest!)
---
Strawberry Shortcake
2 cups all-purpose flour 1/3 cup shortening
2 tsp. baking powder 1 well-beaten egg
1 Tbs. sugar ½ cup milk
½ tsp. salt

Sift dry ingredients together into a medium-size mixing bowl and stir until well-blended. Cut shortening into this mixture, using a pastry mixer or two knives, until the mixer resembles coarse crumbs.Combine egg and milk and add to the flour mixture. Stir until just moistened. Turn out onto a flour board and knead for 8 or 10 strokes (no more--the dough will be quite sticky, not at all like bread dough). Divide dough into two, and pat each into a 7½" round (to fit an 8" greased cake tin). Place first round into greased cake tin, brush the top with melted butter and place the second round on top. Bake at 450° F. 15 to 20 minutes. Remove from tin and cool on a rack. Makes one double decker shortcake that serves six to eight.

Breadhead Backstory
---The Tremont Turkey Festival is one my favorite Illinois local celebrations, and in addition to the hundreds of turkeys which are roasted and served, strawberry shortcake is a festival favorite. I learned that the festival organizers arrange with local church groups to make the shortcake in large batches using whole boxes of quick biscuit mix, oil, sugar and water. I offer my mother's shortcake recipe instead. Because she's an experienced baker, her directions were much more abbreviated, so for the sake of novice bakers, I've expanded them somewhat.
---I've never quite understood how shortcake got its name, since shortcake looks like bread to me, while shortbread looks like cookies. Some shortcake recipes call for more sugar, but I prefer for the sweetness to come from the fruit that is used, and more sugar will make the dough brown too fast in such a hot oven.
---If it's a hot day, refrigerate the shortening for about 15 minutes before use or it will blend with the flour too much. The lightness of shortcake depends upon the shortening and the dry ingredients being distinct.